Sony Xperia XZ2 launched in Taiwan
Max Wang, Taipei; Steve Shen, DIGITIMES
Wednesday 14 March 2018
Sony Mobile Communications has launched its latest flagship model, Xperia XZ2, in the Taiwan market with the availability to begin on March 21 at a price tag of NT$24,990 (US$854).
The Xperia XZ2 features a 5.7-inch 18:9 IPS display, Qualcomm Snapdragon 845 processor, 13-megapixel rear camera and a 5-megapixel front camera, supporting face recognition and 4K HDR imaging.
The Xperia XZ2 will directly take on Samsung Electronics' latest flagship Galaxy S9 products, which will be available in the local market starting March 16.
The Galaxy S9 64GB is priced at NT$25,500, while the Galaxy 9+ 64GB/128GB/256GB will be available at NT$28,900, NT$29,900 and NT$31,900, respectively.
While competition in the high-end segment is heating up due to the availability of new models from Samsung and Sony Mobile, market sources in Taiwan have noted that the local market is shrinking due to a high penetration rate of smartphones and that the market for entry-level and mid-range models is to further expand in 2018.
In addition to product strengths of the respective vendors, channel operations, services and brand image will be the key for individual brands to secure a leading position in the high-end segment, commented the sources.
Since the prices of primary models have been pushed to a persistent high level due to rising component costs, the NT$10,000-15,000 segment is likely to be the main growth area for smartphone sales in the local market in 2018, said the sources.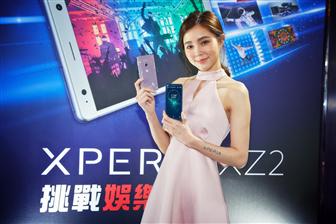 Sony Mobile launches Xperia XZ2 in Taiwan
Photo: Michael Lee, Digitimes, March 2018