Panasonic, Canon and Nikon have temporarily closed their digital camera and component plants in northeastern Japan following the March 11 earthquake and tsunami.
AVC Networks Company, a subsidiary of Panasonic, shut down its high-end digital still camera (DSC) assembly line in Fukushima because plant buildings were damaged. But Digitimes Research believes that the impact on Panasonic's overall DSC production or the global DSC market will be limited, as the Fukushima factory accounts for only 10% of AVC's total DSC capacity, with the remaining 90% located in Xiamen in southeastern China. In addition, Panasonic's DSC production is relatively small.
Nikon has closed four factories in the earthquake-stricken region, with its Sendai, Miyagi Prefecture plant, which makes DSLR (digital single-lens reflex) camera bodies, damaged the most. But Nikon has set up its main DSLR production base in Thailand, the Sendai factory accounts for only 10% of Nikon's total capacity. Therefore Digitimes Research does not expect the shutdown to substantially impact Nikon's DSLR camera business operation.
Sony, Panasonic and Sharp together occupy over 90% of the global production of CCD image sensors. While the three companies' CCD image sensor factories are not located in the earthquake-devastated region, reduced power supply due to Japan government's brownout measure may impact their production. The three companies are main suppliers for Taiwan-based DSC makers, who may see short supply of CCD image sensors.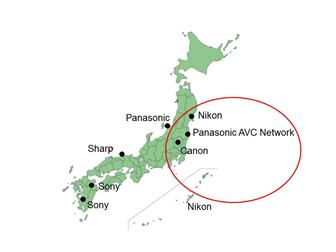 Japan DSC makers manufacturing locations (including CCD production)
Source: Digitimes Research, March 2011