Digitimes Insight: AUO may kick off panel production in China faster than Korea rivals
Tony Huang, DIGITIMES Research, Taipei
AU Optronics (AUO) may see faster progress in its TFT-LCD panel mass production in China than its Korea-based competitors, as the government in Taiwan has lifted all restrictions on its companies acquiring or investing in China-based LCD panel makers.
The main reason for the Taiwan government to lift all restrictions on panel investment in China is to improve Taiwan's competitiveness in the global TFT-LCD panel market and to create greater revenues for Taiwan's TFT-LCD industry.
With the Korea government having allowed its panel makers to invest in China without any restrictions, the Taiwan government's previous restrictions set a huge obstacle to Taiwan panel makers' development in China. But the change of policy means that Taiwan panel makers may now build their own plants in China or invest in the country's existing makers.
China's National Development and Reform Commission (NDRC) so far has only approved applications for 7.5G and more advanced plants from BOE, China Star OptoELectronics Technology (CSOT) and Infovision Optelectronics Kunshan.
Digitimes Research believes AUO is looking to acquire or invest in Infovision. If it cannot work out a deal to acquire or invest in Infovision, AUO will need to apply to the NDRC for approval of a plan to set up its own 7.5G plant in Kunshan, China.
Meanwhile, Korea-based panel makers have turned conservative about investing in China, as both Samsung Electronics and LG Display made losses for their TFT-LCD panel businesses, and may delay mass production in China - currently scheduled for the first half of 2012.
With Korea-based panel makers now placing more emphasis on AMOLED, Digitimes Research believes that China investment will not be the focus of their capex for 2011.
Therefore, with their higher market share in China in 2010 and better relationship with China-based TV vendors, AUO and Chimei Innolux (CMI) may be able to start volume production of LCD panels in China earlier than their Korea-based rivals, further strengthen vertical integration, and enhance their competitiveness in the flat-panel display market in China.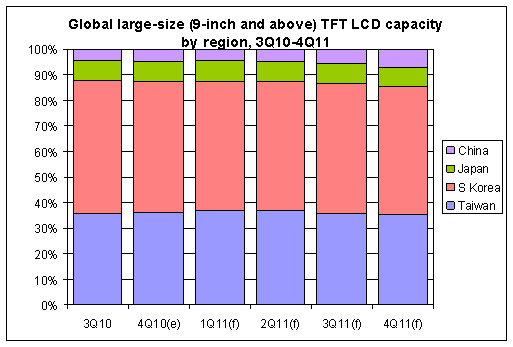 Source: Digitimes Research, March 2011