Asustek Computer has launched Ion-based netbooks, nettops and all-in-one PCs including the Eee Box PC EB1501 and EB1012, Eee PC 1201N, and Eee Top PC ET2002 in Taiwan.
The Eee Box PC EB1012 is the latest version of Asustek's nettop series. The PC supports HD video, HDMI, and casual gaming, highlighted the vendor.
The Eee Box PC EB1501 includes a built-in DVD burner, up to 4GB of memory, wireless connectivity and Windows 7 Home Premium.
Asustek also launched an Ion-based mini-ITX form factor motherboard, the AT3N7A-I, along with the Ion-based PCs. Equipped with an Intel Atom 330 CPU, the motherboard supports both HDMI output and Blu-ray playback. Meanwhile, the motherboard also features built-in Bluetooth as well as 10 USB 2.0 ports.
Asustek Eee PC 1201N netbook specifications

Item

Detail

Display

12.1-inch LED-backlit WXGA screen (1366×768)

Operating system

Microsoft Windows 7

CPU

Intel Atom 330 dual-core processor combined with Nvidia Ion graphics

Memory

DDR2 SO-DIMM 2GB or 3GB

Storage

250GB or 320GB hard drive plus 500GB on Asustek's WebStorage

Dimensions (W × L × H, mm)

296 × 208 × 27.3-33.3

Weight (kg)

1.46 (3.22lbs)

Colors

Black, Silver, Blue, Red
Sources: Company, compiled by Digitimes, November 2009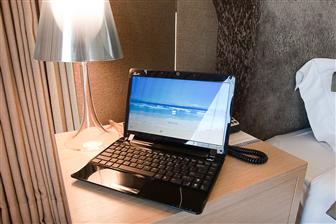 Asustek Eee PC 1201N netbook
Photo: Terry Ku, Digitimes, November 2009
Asustek EeeTop PC ET2002T all-in-one PC specifications

Item

Detail

Display

20-inch 16:9 widescreen

Operating system

Microsoft Windows 7 Home Premium or Windows Vista Home Premium

Touch screen

Yes

CPU and chipset

Intel Atom 330 dual-core processor and Nvidia Ion chipset

Memory

DDR2 SO-DIMM 2GB

HDD

250GB or 320GB SATA2 5400-rpm

Graphics

Integrated graphics units from Nvidia Ion chipset

Dimension (W × H × L, mm)

511 × 410 × 53

Weight (kg)

7.2

Color

Black, White
Sources: Company, compiled by Digitimes, November 2009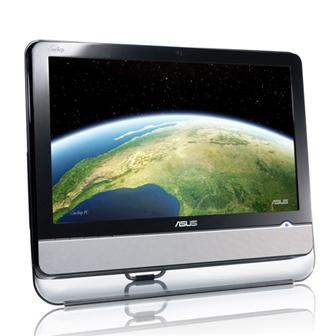 Asustek EeeTop PC ET2002T all-in-one PC with touchscreen capability
Photo: Company
Asustek Ion-based EeeBox series nettop specifications

Model

EeeBox PC EB1012

EeeBox PC EB1501

OS

Microsoft Windows Vista Home Premium

Microsoft Windows 7 Home Premium

CPU

Intel Atom N330 dual-core processor

Intel Atom N330 dual-core processor

Memory

Two So-DIMM slots with 2GB DDR2 800 memory can support up to 4GB

Two So-DIMM slots with 2GB DDR2 800 memory can support up to 4GB

Storage

2.5-inch 250GB SATA hard drive

2.5-inch 250GB SATA hard drive

Chipset

Nvidia Ion

Nvidia Ion

Graphics

Integrated graphics units from Nvidia Ion chipset

Integrated graphics units from Nvidia Ion chipset

Dimension (W × H × D, mm)

222 × 178 × 26.9

193 × 193 × 39

Weight (kg)

1.1

1.2

Color

White or black

White and black
Sources: Company, compiled by Digitimes, November 2009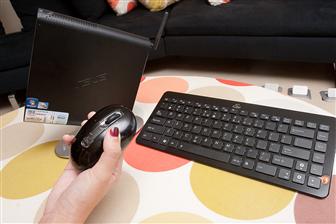 Asustek Ion-based EeeBox series nettop
Photo: Terry Ku, Digitimes, November 2009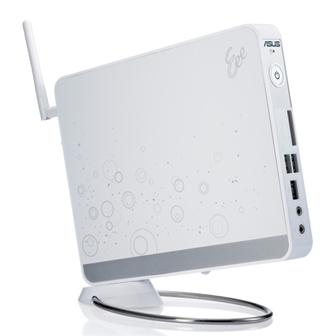 Asustek EeeBox PC EB1012 nettop
Photo: Company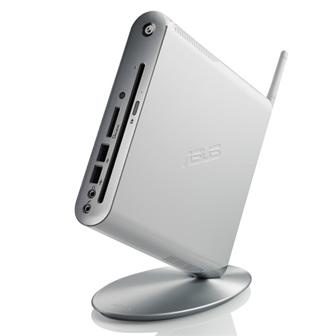 Asustek EeeBox PC EB1501 nettop
Photo: Company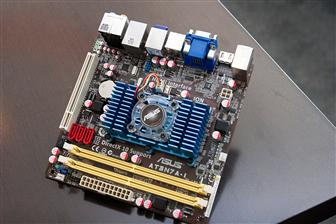 Asustek AT3N7A-I mini-ITX motherboard
Photo: Terry Ku, Digitimes, November 2009