At the 20th anniversary of Monte Jade Science and Technology Association of Taiwan, Taiwan's semiconductor industry leader, John Hsuan, co-founder of UMC and incumbent chairman of Clientron Corp, spoke about topics ranging from semiconductor to future EV in the next 20 years. He predicted that traditional fueled-powered vehicles will be completely replaced by EVs 20 years from now. Hsuan pointed out the global wafer output value was only US$9.4 billion in 2000 and reached US$55.1 billion in 2020, and Taiwan's global market share would be 77.6% if excluding Samsung and Intel.
On top of that, over the past 20 years the output value of Taiwan's packaging and testing industry has soared from US$3.2 billion to U$18.5 billion, and IC design industry has increased from US$3.7 billion to US$28.8 billion, with global market share of 57.7% and 24.1%, respectively. During the past 20 years, Taiwan has flipped the IT world impressively. Give Taiwan 20 more years. Taiwan will have a role to play in the global EV industry. With the well-structured supply chain and perching on a higher ground, the chance of winning again is relatively high.
EV is now a very hot topic in Taiwan. Hsuan shared his insights into the development of the EV industry from mid-May to mid-October 2021. Taiwan is on the move for EV nationwide.
At least 20% of Tesla's output value comes from Taiwan's contribution, Hsuan asserted. The conventional vehicles are operated under a closed system, but not for EVs. The supply chain of traditional vehicles is disintegrating, and Taiwan's ICT industry has taken the initiative.
The shortfall of semiconductors for cars in 2021 could mean a big loss for the global auto industry, probably with US$200 billion more than what had been expected in reduced output value, said Foxconn chairman Young-Way Liu. The preliminary estimates suggest that vehicle production in 2021 would shrink by more than 10 million cars than originally projected. The automotive industry plays a pivotal role as the engine of a nation's economic growth and influences people's livelihood. It is not surprising for the industrial powers like the US, Japan and Germany to take drastic measures to tackle supply chain disruptions.
It is out of question that the EV industry will bring tremendous business opportunity. It is an excellent chance to uplift Taiwan's global position by leaps and bounds. The bottom line is whether Taiwan can gear up for the chase by 2025. If you're not well prepared by then, you are out of the picture, added Hsuan.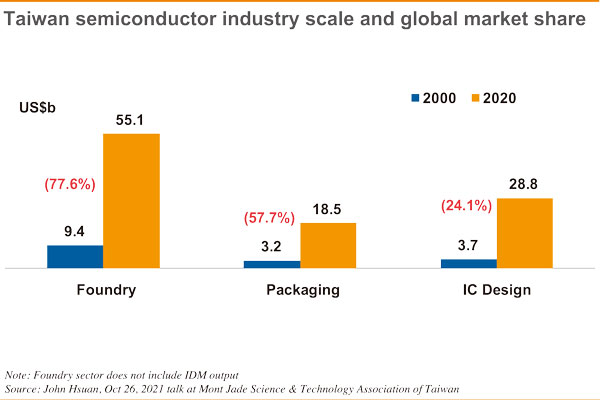 (Editor's note: This is part of a series of analysis of Taiwan's role in the global ICT industry.)