The trend of digital transformation has not only triggered a surge of smart retail but has also boosted growth for Industrial PCs. In fact, the world's leading smart retail solution provider DataVan (3521.TWO) had already begun to prepare its entry to the IPC market back in 2019 with the founding of its Shanghai subsidiary, Shanghai DataVan. While more recently, it has also acquired IPC manufacturer Maincon Corporation into its portfolio. Since the three brands in the Datavan group have complementary presence in the industrial system market, they will be able to provide diverse product lines that have greater coverage in the market so that they can offer clients from different regions or industries better solutions.
Overcoming material shortages
David Huang, Executive Assistant to General Manager at Shanghai DataVan, says that the company initially started with a focus on consumer products but later shifted its attention to IPCs. However, due to the global pandemic, industry supply chains have met material shortages, causing difficulties for both DataVan and Maincon. For this reason, the recent goal of Shanghai DataVan has been to establish ties with suppliers in China to help alleviate the material shortage. A product roadmap is set to begin during Q4 2021 with production to follow in Q1 2022.
Focusing on customized service with R&D advantage
Since non-consumer products are usually customized for each specific scenario and differ from consumer products, Shanghai DataVan will be providing customization services in China market. Huang says that this type of customization requires considerable R&D backing, the staff and resources of which will be required by Maincon and Shanghai DataVan. He is confident that the technical capabilities and design service model of the two companies will be able to neatly meet market demands to create considerable growth potential in the region.
Integrating company resources to meet different market needs
Huang further mentions that because each of the three companies in the DataVan group has its advantages in different areas, they will support different markets and industry applications in the future even though technology and products between the three brands will still be mutually compatible. DataVan will be focused on providing x86-based smart retail solutions to the western market; Maincon will continue to develop its existing Asian customers based by providing local industries with x86 and Android-based AI systems; Shanghai DataVan will target the China market as its primary client source, specifically targeting customized IPCs for advanced applications.
China market promises significant growth potential
As for future plans, Huang says that smart transformation is an inevitable trend and that China is the key market for vendors of this technology worldwide. China has fared especially well in the recent pandemic and therefore promises significant growth potential going forward. Among the members of the Group, Maincon has already produced results in AI research and development, while DataVan will utilize its AI expertise to create various intelligent solutions. Shanghai DataVan will make good use of these resources to build up its competitiveness and further promote itself in the China market.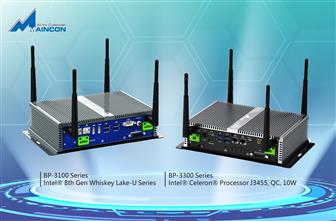 The Maincon Bp-3x00 series fanless Box PC, featuring a highly flexible and expandable I/O for a wide range of applications.