Profet AI has introduced AutoML, an automated machine learning platform to enable makers to develop AI-based solutions for manufacturing processes and management, according to company founder and president Jerry Huang.
AutoML is intended to simplify AI technology to facilitate manufacturers' development of AI-based solutions for in-house use, Huang said, stressing the platform serve the role of a virtual data scientist, and all users need to do is input data for the problem they need to solve and then let the platform guide them through the process of developing the solutions.
AutoML can undertake PoC of AI models built based on the problems and scenarios to show feasibility of such models in one week, Huang indicated.
Founded two years ago, the startup - peviously named JWI Intelligent Technology - has handled more than 50 problems proposed by manufacturers of SMT, PCBs, petrochemicals and other product lines, Huang said, adding an electronics manufacturer has adopted AI-based solutions developed using AutoML and has saved NT$3 million (US$105,630) in cost for precious metals a year and hiked production efficiency by over 12%.
Profet AI currently focuses on the Taiwan market. Viewing that many manufacturers have been setting up factories in Southeast Asia, Profet AI plans to tap the market via SaaS (software as a service) business model.
Profet AI finished pre-A round of funding by raising over NT$100 at the end of 2020, with AU Optronics (AUO), Hive Ventures and SVTI being major investors.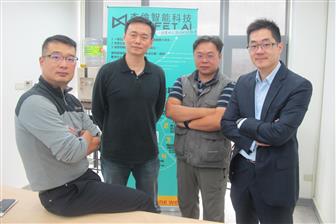 Profet AI founder Jerry Huang (left) with his team
Photo: Chloe Liao, Digitimes, March 2021