Epistar joint venture in China to start production at end of October
Siu Han, Taipei; Adam Hwang, DIGITIMES
Epistar and China-based LED display maker Leyard Electronic's joint venture in Wuxi, China established in the second quarter of 2020, will begin production of mini LED modules at the end of October 2020, according to industry sources.
Epistar's wholly owned subsidiary Yenrich Technology and Episky (Xiamen) together hold a 50% stake in the joint venture while Leyard holds the remaining 50% stake, the sources said.
The joint venture began trial production in August and will start production of POB (package on board) mini LED modules for use in RGB fine-pitch mini LED displays at the end of October, with production to significantly increase in 2021, the sources noted.
RGB fine-pitch mini LED displays with a pitch of 0.7mm need to feature a size of 120 inches to reach a 4K resolution level, and therefore are not in direct competition with relatively small LCD and OLED displays for the time being, the sources cited China-based CINNO Research as indicating. While RGB fine-pitch mini LED displays are overly priced for the consumer market segment, demand for commercial use is taking off.
In line with clients' plans to launch new products, Epistar increased production of mini LED chips in October 2020 and expects yield rates to be hiked from 85% in the fourth quarter of 2020 to over 90% in the second or third quarter of 2021.
Epistar has reported consolidated revenues of NT$1.4 billion (US$47.9 million) for September, increasing 7.34% on month and 4.11% on year, while the amount for the third quarter of 2020 was NT$3.822 billion, growing 21.67% on quarter but slipping 8.39% on year. For the first ninth months in 2020, Epistar had consolidated revenues of NT$10.352 billion, dipping 13.4% on year.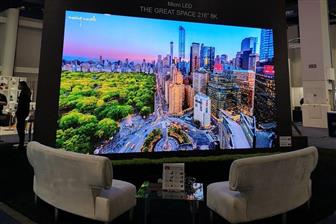 A RGB fine-pitch mini LED display
Photo: Company