OmniEyes has developed a car fleet management solution through AI-based analysis of real-time video, according company co-founder and CEO Chou Chun-ting.
By virtue of machine vision and edge computing, the solution can analyze real-time video recorded by cloud computing AI-enabled cameras installed on cars to automatically detect dangerous driving behavior - such as running the red light, not yielding or stopping at stop signs, violating no-turn or no-entry regulation and illegal parking - and then send warnings, Chou explained.
As conventional GPS car tracking devices are unable to reflect real road conditions and GPS positioning may slightly deviate from actual locations arising from traffic interferences, OmniEyes' solution can make up for the deficiency, Chou indicated.
Express delivery service provider Taiwan Pelican Express has adopted the solution to minimize driver risks and optimize logistics performance, Chou said, adding taxi service provider Taiwan Taxi and public bus operator Metropolitan Transport have also adopted the solution.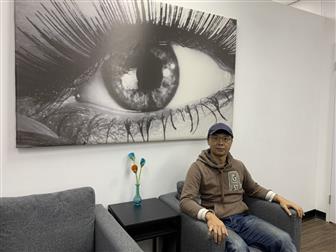 OmniEyes co-founder and CEO Chou Chun-ting
Photo: Yihan Li, Digitimes, February 2020