Despite automation equipment, robotic arms and AGVs (automated guided vehicles), manual operation is still necessary for some manufacturing industries and thus harmonized collaboration between workers and robots is essential to Industry 4.0, according to Shinyi Fukui, executive officer for Technology Development under Omron.
Fukui made the remarks at a keynote speech "Manufacturing Site in the Near Future Where People and Robots Are Harmonized" at the Robot Development & Application Expo 2020 (RoboDEX) taking place in Tokyo, Japan, during February 12-14.
Japanese and other advanced countries' manufacturers, to cope with declining labor supply and rising wage rates, have moved production lines to China and Southeast Asian where workforce is abundant, Fukui said. However, moving of production lines is not the optimal solution, and instead hiking automation via adoption of robots and AI technology is a sustainable solution, Fukui noted.
While Industry 4.0 is mostly thought of as development of automation toward unmanned factory, not all manufacturing industries can realize that because robots and AI technology are unable to replace many types of manual work, Fukui explained. Omron aims to transform human-robot interaction from mutual replacement to mutual cooperation and have robots excite potential human capability eventually, Fukui indicated, adding this is the goal of Industry 4.0 for many manufacturing industries.
For realizing human-robot collaboration, 5G communication technology plays a key role, for its high-speed data transfer in large volumes enables analysis of detailed movement of human bodies. When robots can understand the characteristics of human behavior via analysis of real-time images and algorithm-based computing, they can ideally collaborate with workers, Fukui explained. By virtue of low latency and multi-point connectivity, 5G technology enables wide deployment of IoT sensors and hikes efficiency in data collection, Fukui said.
Omron has begun human-robot collaboration at its factories, Fukui noted. For example, AGVs carrying components and materials can run to each worker and avoid collision through machine learning-based sensing of surrounding physical changes, Fukui said. In addition, IoT sensors collect data on workers' operating conditions to let them understand their working performance and what can be improved, Fukui noted. This can not only hike working efficiency in man power but also save time and cost for training workers, Fukui indicated.
Omron will keep cooperating with NTT DoCoMo, Nokia and other telecom carriers to seek more applications of 5G technology to human-robot collaboration.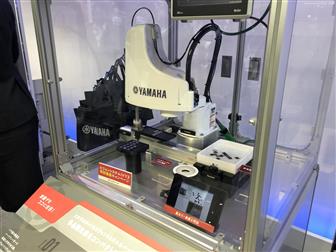 A robotic device showcased at RoboDEX 2020
Photo: Jay Liu, Digitimes, February 2020