iStaging has seen a surge in inquiries following China's coronavirus outbreak about its VR/AR solutions that can replace person-to-person contact conventionally entailed in general business operations, according to company COO Rene Fang.
Real estate agents in Taiwan have adopted VR solutions to enable clients to browse selected properties using smartphones, tablets, PCs or even VR glasses, Fang said. If potential clients are interested in certain real properties, agents can introduce detailed information to them and answer questions in a VR environment, Fang noted.
Other industries can also use VR/AR solutions to hike operation efficiency, Fang indicated. Logistics service operators can use VR/AR solutions to let clients remotely understand utilization of warehousing space and related management; retail operators can be helped make decisions on store deco or floor plan; factories can use them in employee training; and hotels can let customers preview room conditions and environment of hotels.
With improvements in hardware/software technology and mature use of cloud computing, VR/AR solutions are no longer impractical and costly, Fang said.
Clients using iStaging solutions only need to use video recording sets equipped with fisheye lenses (can be smartphone cameras, cameras or 360-degree panoramic cameras), and use an app to process the videos and then upload them to the cloud computing to turn them into VR content, Fang explained. Clients can make cloud computing-based VR content available for their customers via putting the content on its official websites, Fang noted.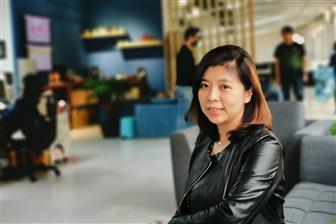 iStaging COO Rene Fang
Photo: Vincent Mao, Digitimes, February 2020