Global tablet shipments totaled 43.23 million units in the fourth quarter of 2019. Shipments from China's white-box players weakened in the quarter due to their need to digest inventory, while brand vendors mostly saw increased shipments thanks to seasonal momentum, according to Digitimes Research's latest tablet report.
As the tablet market enters the traditional slow season and China's coronavirus outbreak has extended the Lunar New Year holidays there by 1-2 weeks, global tablet shipments are expected to arrive at only 28.56 million units, a new low, estimates Digitimes Research.
Apple was the largest tablet vendor worldwide in the fourth quarter of 2019 thanks to mass shipments of its 10.2-inch 7th generation iPad. Samsung Electronics was in second place, followed by Amazon in third, Huawei in fourth and Microsoft in fifth. Lenovo fell out of the top-5 in the fourth quarter of 2019.
Amazon will drop to fourth place in the first quarter of 2020 due to a major decline in shipments, giving the third place to Huawei. Microsoft will remain fifth.
Shipments of tablets with 10-inch and above displays accounted for 70% of the global volumes in the fourth quarter of 2019, while those with 8.x-inch displays also enjoyed a rise in share to over 17%. The share of 10-inch and above models will continue to rise to nearly 75% in the first quarter of 2020, while 7-inch devices' share will drop to 5.7%, down from 10.7% in the previous quarter due to Amazon's sharp shipment decline. The 8-inch form factor will take over the 7-inch one to become the mainstream size for inexpensive tablets.
Amazon's tablet shipment drop in the fourth quarter 2019 affected the shipment share of tablets with GFF touchscreen technology, allowing the percentage of those with in-cell technology to pick up. Amazon's expected sharp shipment decline in the first quarter of 2020 will significantly benefit the shipment share of in-cell-based tablets.
Of Taiwan's tablet shipments, over 50% will be contributed by Foxconn Technology Group (Hon Hai Precision Industry) in the first quarter of 2020, a new high since the second quarter of 2018 because of orders for iPad Pro (2020). China-based BYD has entered Apple's table supply chain in 2020 and will take away a part of entry-level iPad orders from Taiwan makers. Since BYD is still new, orders it has received will not significantly affect Apple's other existing partners in the first quarter of 2020.
Global tablet shipment share by vendor, 1Q19-1Q20 (%)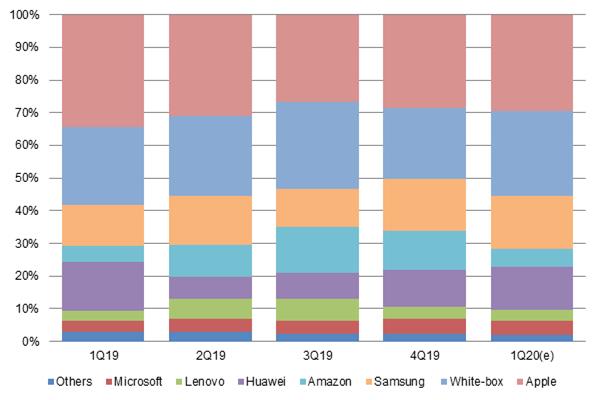 Source: Digitimes Research, February 2020