HP Tech Ventures focuses on value to be created by startups
Chloe Liao, Taipei; Adam Hwang, DIGITIMES
HP Tech Ventures uses a structured process to identify external disruptive innovation. This is done by searching worldwide for early stage startups in the areas of focus of HP Inc's three business units, according to Mitchell Weinstock, partner at HP Tech Ventures.
Weinstock made the remark at his keynote speech "Strategic Investing, Making Corporate Venture Capital Work" at the Startup X Asia Meetup jointly organized by Department of Economic Development under Taipei City Government and Digitimes and held on November 25.
The first step is understanding of development of innovative applications at open events such as Demo Day or summits to gain insight into innovative technologies that can create value for HP over next few years, Weinstock said. Then, HP Tech gets in touch with interested startups.
The second step is to check whether the interested startups can conform to HP's corporate development strategies, and if yes, HP Tech will examine the candidates' technological capabilities and business models as well as their teams' development potential, which is even more important than technological capabilities, Weinstock said.
The last step is to prioritize candidates that have passed the examination, as any enterprise is unable and impossible to invest in all at the same time, Weinstock indicated.
HP Tech may watch the candidate startups for 3-5 years to see health of their teams or if their business can grow to new milestones, and usually decides on combinations of joint investment targets in a certain area through discussion with partnering venture capital investors. In principle, HP Tech makes CVC investment for a stake of below 20% in a single startup business, Weinstock said.
While independent venture capital investment mostly focuses on startup businesses' growth stage to maximize return on investment, CVC investment places emphasis on creation of value for the investing enterprises via such investment and therefore focuses on the initial and middle stages, Weinstock explained.
He noted 90% of startup businesses contacted by venture capital firms or CVC investors reportedly are unable to survive eventually. In 2019 alone the HP Tech Ventures team has assessed over 1,350 startups to date. Since separation in 2016 they have done 13 investments and 30 commercial partnerships, Weinstock said.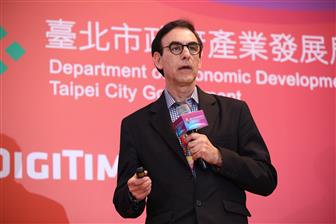 HP Tech Ventures partner Mitchell Weinstock
Photo: Digitimes staff, November 2019