Renovatio Pictures, a Taiwan-based startup specialized in VFX (visual effects) production, has scored points in the domestic market and plans to foray into North America together with Taiwan's cinematic supply chain, according to company co-founder Tomi Kuo.
Founded in 2017, Renovatio provides a full range of VFX services including concept design, look development, rotoscoping/clean plate, match moving, animation, special effects simulation, lighting and compositing, Kuo, the company's VFX supervisor, said.
Renovatio has introduced a workflow process from Hollywood and developed tools on its own to secure VFX quality, Kuo noted, adding that company co-founder and producer Peter Huang and CTO Willy Fan have relevant working experience in North America.
Besides motion pictures, Renovatio has produced VFX for TV dramas, VR video, advertising, events and activities, Kuo said. For example, Renovatio produced VFX for The Coordinator and Stand By Me, two TV series dramas published by Taiwan Public Television Service (TPT) and broadcast on OTT channels of TPT+, Netflix, LINE TV, CatchPlay, FriDay and KKTV.
Renovatio's complete VFX produciton for Detention, a locally produced thriller and suspense movie, has won the Best Visual Effects award at the 2019 Golden Horse Awards film contest.
Kuo has participated in VFX production for several locally-produced films including 10,000 Miles, Black & White: The Dawn of Justice, The Rooftop and Love. VFX can enlarge room for content creation, reduce production cost for reality film shooting and bring audience into virtual thrilling experience, Kuo indicated.
While global demand for VFX is growing, development of the VFX industry in Taiwan has been significantly slow due to inadequate awareness of the industry, Kuo said.
VFX is often thought of as the last step in the entire process of movie production, Kuo noted. But VFX experts' participation in the entire production process from cinematic planning, script analysis to film shooting can make special effects better express core of plots, Kuo indicated.
In Taiwan, however, movie or TV video producers frequently skip VFX due to limited budgets, Kuo said.
Free creation of diverse movie plots is conducive to development of cinematics in Taiwan, Kuo noted. Kuo recommended that plots be based on things in people's common memory like those of Detention, The Tag-Along, The Teenage Psychic and The World Between Us.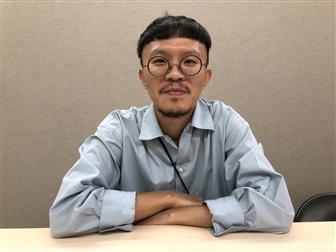 Renovatio Pictures co-founder and VFX supervisor Tomi Kuo
Photo: Company