Silicon Valley-based Kiwi Campus is a startup dedicated to operating a semi-autonomous robotic platform for delivering foods, beverages and groceries to consumers on college campuses and in neighboring communities. The company, attracted by Taiwan's sound business climate, robust hardware manufacturing, and R&D prowess, is planning to set up operations in the country, according to company founder Felipe Chavez Cortes.
He was recently in Taipei to assess the feasibility of establishing an R&D center, a robot assembly and test team and a business operation unit in Taiwan. In an interview by Digitimes, he talked about his firm's service platform and investment roadmap in Taiwan.
Q: What drove you to set up Kiwi Campus?
A: While still a student at the University of Los Andes in Columbia I got the idea of developing campus economy, believing that time was ripe for operating an automatic robot food delivery platform. We founded Kiwi Campus after spending one month studying the sharing economy, supply chain and AI-enabled autonomous driving technology.
We later joined the Skydeck Acceleration Program hosted by the University of California, Berkeley, which became our first institutional angel investor and technology consultant. This also gave us access to resources from California State University through the Deep Drive research project, enabling us to get funds and AI technology needed to build robots.
About two and a half years ago, we moved and officially registered our company in Silicon Valley.
Q: What is your business model?
A: We want to create a balanced market economy, allowing users to happily pay US$1 or lower to get delivery service for foods and merchandises they need and available within two square miles via semi-autonomous robots.
Our revenues mainly come from restaurants or suppliers of products for sales in automatic vending machines. We charge 15% of product price as service fee.
For the moment, we offer services at two universities and their neighboring communities. One is UC, Berkeley, with its nearby stores and consumers contributing 70% of our revenues there. Another is the University of Denver in Colorado.
Meanwhile, our colleagues are making preparations for launching services at another 12 university campuses. We hope that our company can start operations in Taiwan in 2020.
Q: What does Taiwan interest you most?
A: As our robots are now manufactured in Shenzhen, China, we want to find a university campus nearer the hardware manufacturing base. Also, we need to find a place in Asia to set up a team with strong R&D momentum, and this is why I am in Taipei, where I hope to meet with potential talent and see if there is a chance of establishing an R&D team. I believe that with its high population density and strong consuming power, Taiwan will be a market highly fit for the services we offer.
As the TensorFlow platform we use is developed by Google and China bans the use of Google map, we have no other choice but to do the robot assembly and test in the US, which is quite inconvenient for us. This has prompted us to seek a proper place near Shenzhen, where our robotic components are manufactured, to assemble them into robots and do final test. I think robots can be well assembled and tested in Taiwan and then directly offer services to local consumers, given the country's strong ICT manufacturing capability and competitiveness.
Q: Is National Taiwan University (NTU) the campus you just mentioned? How will you work with it?
A: Besides NTU, we will explore the possibility of cooperating with all other universities in Taiwan. We have amassed abundant experiences in successfully cooperating with university students in the US to deliver foods, beverages and groceries via robots to consumers on campuses and in neighboring communities, and such a cooperation model will also be applied here.
Q: How has business been since your company started official run two years ago?
A: We completed over 70,000 transactions in 2018 and now register a weekly average of 3,000 deals. If you visit UC, Berkeley, you will find our robots shuttling around. Population density and cooperation with the supply chain are crucial factors for our business. Based on our calculation, one-trip delivery cost for one robot can be covered by fulfilling two service orders in Taipei, and one automated robot can handle 4-5 orders per trip.
Q: How is AI applied to your services?
A: Our robots adopt Level 2 autonomous driving technology and our artificial neural network enables the robots to automatically move in the middle of sidewalks, shun obstacles and recognize images, street corners and traffic lights. Each robot is equipped with six camera lenses and a Jetson TX2 computer with GPU computing capability, but at low power consumption. We use machine learning and deep learning to train our robots, enabling them to adjust moving speeds and directions in accordance with road conditions, yet without using high-end sensing or LiDAR devices.
Q: Will you use the robots to collect big data for future commercial applications?
A: Our neural networks will not record road images but can collect data concerning traffic jams and time slots, as well as networking quality. But it will require many more robots if we want to collect sufficient data for useful applications. In this aspect, we will move to discuss with city governments on possible cooperation.
Q: What about your business development plan for the next 5-10 years?
A: We are mulling setting up robot-operated smart city systems, allowing people and enterprises to access our robot platforms to live in smart cities, which will be our ultimate goal. Actually, we have started building vertical high-frequency trading marts or platforms by combining robots and cities.
Q: How about your company's current market valuation ? Will you have a new round of fundraising activity?
A: The current market valuation of our company is around US$4 million, and we are proceeding with a second-round financing plan seeking to raise US$15 million in the first or second quarter of 2020. Meanwhile, we hope to kick off our services in eight cities in 2020, with one in Asia, hopefully Taipei. And our business goal for next year is to complete one million transactions with 1,000 robots.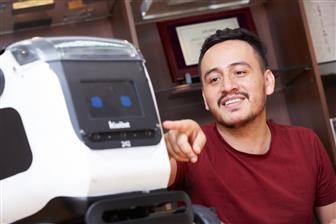 Kiwi Campus founder Felipe Chavez Cortes
Photo: Michael Lee, Digitimes, November 2019