Taiwan will form a blockchain alliance on July 12, looking to create an environment to help companies and developer enter the blockchain industry, a government minister has announced.
National Development Council minister Mei-ling Chen made the announcement on Jluy 2 at the opening day of the two-day the Asia Blockchain Summit 2019 held in Taipei.
Chen said that in addition to providing funds to blockchain developers, the government has also been making efforts to accelerate overall industry transformation, and FinTech development.
The alliance will serve as a communication platform among industries, governments and academies, allowing experts in different fields to exchange ideas, and integrate resources and information. The alliance will also focus on nurturing talent, forming cooperation with blockchain players worldwide, and pushing and adjusting related policies
During the summit, ACE Exchange has pointed out that it has cooperated with Asia Blockchain Accelerator (ABA), Asia Blockchain Media (ABM) and ACE Blockchain Fund (ABF) to establish two cryptocurrency exchange centers in Taiwan.
ACE Exchange, citing Gartner's figures, pointed out that worldwide blockchain business opportunity is expected to reach US$170 billion by 2025.
ACE Exchange president and ABA CEO David Pan pointed out that ACE Exchange serves the entire Asia. The company self-imposes strict regulations, and receives supervision from KPMG, Pan said, adding it is the only blockchain accelerator in Taiwan that has a strategic partnership with Binance Chain. It has also collaborated with Taiwan Blockchain Academia formed by 15 universities in Taiwan, to jointly incubate blockchain talent.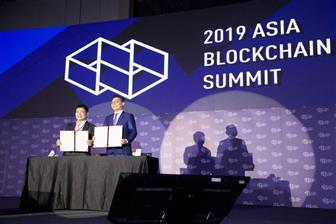 Asia Blockchain Summit 2019 in Taipei
Photo: Shihmin Fu, Digitimes, July 2019