Since its inception in March 2017, Taiwan startup BravoAI has been devoted to applying computing vision (CV), natural language processing (NLP) and artificial intelligence (AI) technologies to help domestic insurance firms screen insurance applications and handle insurance claim settlements, aiming to help insurers sharply cut their operating costs, according to company founder and chairman Jack Chao.
Chao said Taiwan's overall life insurance operating efficiency leaves great room for improvement, citing 2017 statistics as indicating that administration costs of the country's life insurance industry amounted to NT$2.2 trillion (US$71.37 billion), accounting for 57% of the industry's total premium incomes and far outnumbering NT$1.66 trillion in actual claims settled in the year.
In analyzing business operation procedures of life insurers, BravoAI has found that insurers usually utilize a lot of labor force screening insurance applications and settling compensation claims. But the time-consuming and complicated job can be easily done with the application of CV, NLP and deep machine learning, thereby not only boosting operating efficiency but also creating new values, according to Chao.
While deep learning, AI, and IA (intelligence augmentation) must be all based on big data, global financial service providers including insurers still lag behind other sectors in incorporating these IT technologies due to security concerns, although they have amassed comprehensive customer and historical data.
By leveraging its technological advantages, Bravo AI has worked out an automatic non-life claim settlement solution utilizing AI to process documents, medical images, and property insurance pictures to help insurers make accurate decisions in the shortest time possible, Chao revealed.
The solution can achieve up to 98.5% in judgment and decision accuracy and proves to be 200 times faster than manpower processing, effectively helping insurers curb insurance fraud by clients. Accordingly, Chao disclosed, the solution has won patronage from many property insurance firms including Tokio Marine Newa Insurance.
Besides automatic claim settlement solution, BravoAI will move to release new solutions to create more values for clients, including those for smart insurance application screening, insurance portfolio examination, insurance cycle evaluation and risk management, according to Chao.
Chao continued that his company is also integrating experiences in serving insurance firms and blockchain technology to develop solutions acceptable to insurers, hospitals, general public and the government.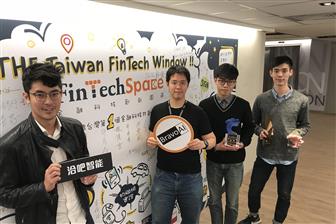 BravoAI founder and chairman Jack Chao (second left) and his management team
Photo: Company, February 2019