Round-P developing drone management software platforms
Yihan Li, Taipei; Steve Shen, DIGITIMES
Taiwan-based Round-P Technology is developing agent control-type software platforms to enable remote-controlling the operations of drones, according to company CEO Hsu Jung-kuo.
Using compression and decompression technologies for streaming images, the agent-control platform will enable users to steer the flight direction and other movements of drones through mobile phones without latency, Hsu said.
The agent-control platform will lower the threshold for ordinary people to utilize drones for aerial photography or for promotion of travelling activities, as well as for surveillance in places including campus, forest and industrial zones.
The platform developed by Round-P can also be used for the management of drones to prevent them from invading into confidential areas or restricted scenic spots, Hsu said.
The number of active consumer drone players in Taiwan totals about 5,000 currently, Hsu noted, citing data compiled by crowdfunding platform FlyingV.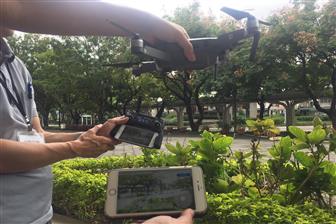 Round-P demonstrating its drone control platform
Photo: Yihan Lee, Digitimes, November 2018