Taiwan Edison Creative Technology has unveiled an LED street lamp independently powered by a PV module, a 1,150W mini wind turbine in combination with a 1,200W energy storage battery.
The PV- and wind-powered LED street lamps are designed specifcially for use in remote areas where it is costly and difficult to lay power supply lines along roads.
PV modules generate electricity during daytime while mini wind turbines can do so all day. At a power consumption rate of 50W/hour, such a street lamp consumes power of 600W for lighting for 12 hours a day and the energy storage battery, under normal conditions, has enough capacity to supply needed power.
There are two choices of controlling lighting time, one is to set fixed length of lighting time, 12 hours for example, and the other is to use photo-sensitive resistors to sense ambient light to switch the light on and off. The former is suitable for populated areas while the latter is normally used in areas with fluctuating sunlight and weather conditions.
Such LED street lamps are not connected for automatic monitoring of operating conditions for teh time being and therefore regular maintenence is necessary.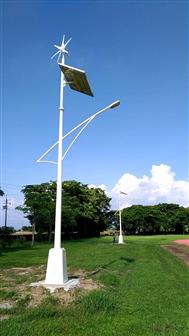 Taiwan Edison PV- and wind-power LED street lamp
Photo: Company