Facing the great waves of the Fourth Industrial Revolution, Vietnam is keen on promoting e-government projects, and the government there has selected five main cities, including Hanoi, Ho Chi Minh City, and Danang, as pilot sites for smart city development, covering clean energy, environmental protection and transportation, according to Truong Gia Binh, chairman of FPT Group, the largest information technology service company in the country.
Binh told Digitimes in a recent exclusive interview that the information technology service market scale in Vietnam is estimated at US$16 billion a year, with an annual growth of 13% seen in 2017.
FPT just marked its 30th anniversary on September 12. Binh said that he founded FPT from scratch 30 years ago, when Vietnam was just beginnig to introduce reform and open up. After returning to Vietnam following 11 years of studies in the Soviet Union, Binh decided to venture into the country's information service market, which at the time hardly seemed promising.
But now, the FPT Group, dedicated to information services, 3C channel distribution services, and computer education and training services, has a total of 35,000 employees and annual revenues of US$2 billion. The group has extended its software contract services and call-center business to 33 countries, maintaining business ties with at least 100 out of the world's top-500 enterprises.
Speaking about Vietnam's future development prospects, Binh pointed out Vietnam has 65% of its population aged under 35, with the average age of its people at only 27. In addition, Vietnamese students have very good mathematical skills, frequently winning prizes in international math contests, which has prompted FPT to engage in computer education as a major business.
Furthermore, the FPT Group has over 600 franchised partners in Vietnam for 3C products distribution, and it has also set up a joint venture with Taiwan's Synnex Technology International to develop local 3C distribution business in Vietnam.
But Binh still has a lot of concerns about whether to foray into production of consumer electronics devices including handsets.
At the moment, Samsung Electronics undoubtedly is the top vendor in Vietnam's handset market, bolstered by its volume production capability there. Also, chances are also not high for Vietnam makers to outperform China handset brands in the market.
Accordingly, Vietnam is inclined to produce network communication products associated with national security, and develop local information service business.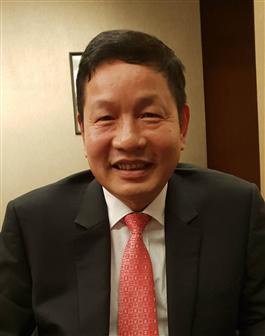 Truong Gia Binh, chairman of Vietnam's FPT Group
Photo: Digitimes staff, September 2018