Co-founder of Translink Capital Jackie Yang has accumulated 21 years of experience in venture capitalism since he first set foot in the field in 1996. Having witnessed the rise and fall of Taiwan industries and changes in technologies, Yang thinks although the PC and semiconductor industries that have fueled Taiwan's economic growth are experiencing market saturation and maturity, startups still have a good chance at success if they are able to capture opportunities. He gives some pointers and suggestions to Taiwan's entrepreneurs based on his experiences in funding successful startups.
Five things to focus on for startups looking to bring innovations to people's lives
Over the past decade or so, venture capital funds in Silicon Valley mostly invested in startups endeavoring on innovative hardware devices. This is called the "Hard Tech" sector including network equipment, optical communication and semiconductor firms. However, these businesses have begun to face market saturation since 2000. Not a lot of startups were emerging and new companies were mostly spin-offs from large enterprises or founded by people originally working for large enterprises. Venture capital funds today mainly invest in startups that bring creative changes to people's lives, such as Uber, AirBnB and e-commerce firms. Yang offers five suggestions to Taiwan startups that wish to venture into lifestyle innovations or consumer devices.
Get familiar with the local culture
Lifestyle innovations have to be largely based on how local people live. For example, if you live in San Francisco, you'll know that not only is it difficult to hail a taxi on the street but it is also expensive to take one, not to mention the fact that taxi service there leaves a lot to be desired. Then, you can understand how Uber could quickly rise up in San Francisco. However, for Taiwan startups looking to work on lifestyle innovations, the local market is too small. If they target the China market instead, they need to have someone familiar with the China market to join the team and they also need to work as aggressively as young people in China to be able to compete in the China local market.
Target niche market segments
Camera drone maker DJI and action camera maker GoPro both chose to target a specific group of users. DJI focused on developing drones for professional users right from the beginning. This group of users come from all over the world and form an online community, where they engage in communication and help DJI build up a strong brand reputation. The success of GoPro is a good example demonstrating the effectiveness of word-of-mouth marketing. Among the slew of camera suppliers, GoPro was the first to make cameras for extreme sports and put the captured video footages on YouTube, which served as powerful advertising. Taiwan-based MSI, specializing in gaming PC, is another successful firm that focuses efforts on a niche segment.
Creative sales approach: direct marketing
One thing GoPro and smart wristband maker Fitbit have in common is their direct approach to product sales, which is not often adopted by Taiwan-based firms. Besides GoPro and Fitbit, Xiaomi also makes use of such a creative sales strategy and actually saved a large sum of marketing costs in its early-stage expansion. In addition to selling products directly to users, Fitbit is able to achieve great success also because it chose to add network communication capability to its pedometer early in the development stage, which is a critical feature to consumer devices and enables data sharing with smartphones.
Differentiating features
The success of Fitbit has spurred a slew of followers making smart wristbands. However, startups should not make me-too products and instead must come up with differentiating features. Despite being a follower also making smart wristbands, Misfit did a survey before they entered the market and found the biggest complaint from users is battery life, so it came up with wristbands requiring no charging, allowing it to successfully penetrate into the market.
It is not easy for startups to develop differentiating technologies, especially in the case of mature industries that hold a high technological barrier. On the other hand, in the case of emerging technologies, there may be fewer people with specialized expertise to compete against but this also means it is more difficult to get help when you encounter a bottleneck. Taiwan-based startup Appier, focusing on AI technology, is among the few firms that possess its own R&D strength. It provides AI-based big data analytics to help enterprises with advertisement placement and digital marketing. Having accumulated a myriad of successful use cases, Appier generates impressive revenues, half of which are contributed by overseas clients.
User base is the key
Aside from consumer devices and AI-based application services, Translink Capital also invests in social media. According to Yang, as long as a social media site gains a sufficient user base, its profitability is just a matter of time and the business model is usually not a real concern. The key point is whether it can operate across borders and not be limited to a single region.
The automotive industry is undergoing revolutionary changes
As a venture capitalist, Yang is often asked which industry he is currently taking an interest in. In response to the question, Yang said among traditional industries, the automotive sector is the one faced with the biggest challenges in recent years. All automakers are bracing themselves for impact. "C.A.S.E" – each of these has the power to turn the automotive industry upside down. "C" (connected) means cars, like smart wristbands and watches, must have network communication capability to become connected cars. "A" (autonomous) refers to autonomous driving backed by a multitude of sensor, software and AI technologies. "S" represents "smart city" or "sharing" which includes the innovative services, such as Uber, and even Zipcar car sharing, changing how people choose means of transportation. "E" refers to electric car, which is undergoing flourishing developments in China.
Self-driving cars combined with ride sharing or car sharing services will bring radical changes to user habits. For example, consumer demand for vehicles may go down or it is more precise to say that consumers may no longer be those making car purchases. Automakers are acting prudently to cope with future changes and many of them have begun to invest in or expand into ride sharing services.
Amid rapid technology advances and market changes today, not only do startups need to capture opportunities but large enterprises also sustain significant impact. When the market becomes saturated, how can large enterprises maintain growth by fostering innovations? Yang suggests that every firm should allocate at least 0.5-1% of its budget for startup investment. Startups can serve as a unit doing advanced R&D for large enterprises, especially when their internal R&D units have problem keeping up with new trends and are falling behind schedule. Samsung, wishing to take a different approach from the competition, makes active efforts to work with startups and has a well-developed policy in this respect. Among Taiwan-based businesses, Foxconn is the most aggressive in startup investments.
Japan's second largest property insurance firm has recently funneled investment into Translink Capital in hopes of gaining an understanding on innovative technologies through Translink Capital. In doing so, the Japanese firm not only seeks partnership opportunities but also looks to prevent emerging FinTech services from grabbing its market share.
(Editor's note: This is part of a series of interviews focusing on the problems and opportunities that Taiwan-based startups face. The interviewees are venture capitalists and angel investors from Silicon Valley and Taiwan.)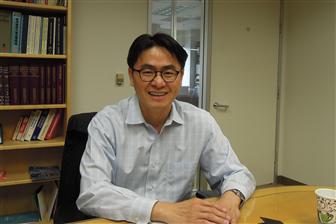 Jackie Yang, co-founder of Translink Capital
Photo: Joseph Tsai, Digitimes, May 2018