Custom IC design made easy with GreenPAK solutions: Q&A with Dialog Semiconductor executive Mark Tyndall
Jay Liu and Cage Chao, Taipei; Willis Ke, DIGITIMES
Friday 18 May 2018
After acquiring Silego Technology, a US supplier of configurable mixed-signal ICs (CMIC), for US$306 million in late 2017, UK-based Dialog Semiconductor has launched new series of GreenPAK CMIC devices, providing engineers with a brand-new set of total IC design solutions.
With the support of the GreenPAK technology platform, designers can create and program a custom circuit in minutes, enabling them to render customization services more easily and lowering the threshold for accessing circuit design resources, Mark Tyndall, general manager of the Emerging Business Group at Dialog Semiconductor, told Digitimes in a recent interview.
Q: Is GreenPAK CMIC similar to FGPA chip in functions? Would you briefly talk about its characteristics and what value it can bring to customers?
A: Basically, GreenPAK can be regarded as an analog version of FPGA. In the past, designers used to spend much time loading and unloading discrete devices during the circuit design trial process, but our GreenPAK CMIC solutions can allow designers to freely arrange circuit layouts and carry out tests, thus saving time with easy operation. Our business model is to provide a small common board to customers, and then they can connect the board to computers before starting to design circuits with our software interface. After customers send us finished design samples, we will soon contact foundry houses for them to fabricate and deliver the chips.
At the moment, many customers from the sectors of notebooks, motherboards, IoT, smartphones and power supply devices prefer to use our GreenPAK CMIC solutions, because such CMICs can integrate many system functions, minimize component count, board space and power consumption, and increase differentiations of chip designs.
Q: What about your current pricing strategy and profitability for this product?
A: The average unit selling price of our GreenPAK CMICs stands at US$0.2-0.3, with the actual price depending on the number of functions required by customers. The low-pricing strategy is mainly designed to promote sales of our CMIC devices, because if they were sold for high prices, engineers might be inclined to follow the old circuit design models.
The overhead rate of GreenPAK CMICs now comes in the range of 15-20%, but the actual percentage will hinge on the exact number of devices adopted by engineers. Despite limited cost-saving space, our products are easy to use and allow great design flexibility to create more values. At the moment, GreenPAK solutions carry higher gross margins than the average margin rate of Dialog Semiconductor, absolutely conducive to our company profitability.
Q: How do you see the scale, growth prospects and competition scenarios of the CMIC market?
A: The market is really growing, with its scale conservatively estimated at US$300-400 million a year now. Relevant sales already brought us revenues of US$80 million in 2017 and we expect a 15-20% annual revenue growth from the sector. In fact, serious supply shortages and price hikes recently seen for discrete components will surely bring us more business opportunities.
At the moment, most of our market competitors still focus on offering discrete solutions, and we are the only supplier of solutions with integrated design interfaces. Some peer rivals also engaged in developing such solutions in the past, but only Silego has scored remarkable achievements following long-term competitions.
Q: What are your plans for product and market development in the future?
A: Basically, we will roll out new products and carry out more systematic integrations year by year, and will also further improve IC scaling and incorporate ever-lower power consumption functions into our new-generation products.
In developing customers, we will continue to focus on notebook and motherboard sectors, so as to achieve sufficient sales volume first. Of course, the smartphone sector will be the major target in our next wave of market development, and we hope to score a significant breakthrough in this sector by leveraging the high design flexibility and product differentiation capability of our GreenPAK CMIC solutions.
Dialog Semiconductor is extending its marketing tentacles to more parts of the world, especially China, Taiwan and other Asian countries. Before the recent technology seminar with hands-on session held on May 10 in Taipei, our company also hosted a similar event in Shenzhen, China, attracting the presence of more than 400 engineers. We hope that through a spate of hands-on sessions, engineers can get accustomed to using the GreenPAK design interfaces, and more software talent can be inspired to jump on the IC design bandwagon. Actually, we have great confidence in promoting GreenPAK solutions.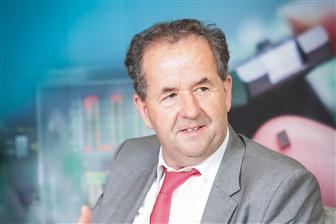 Mark Tyndall, GM of Emerging Business Group at Dialog Semiconductor
Photo: Company