Dialog takes the lead to drive RF-based wireless charging to create whole new user experiences
Sponsored content
Although wireless charging has gathered much attention in the market in recent years, it has not yet been adopted on a large scale owing to issues such as convenience, costs, safety, and so forth. As opposed to the traditional coil-based wireless charging technology, collaborating with Energous, Dialog Semiconductor shall be providing consumers with unparalleled experience through its distinctive RF-based wireless charging technology. In addition, with wearables and IoT devices as target markets, Dialog attempts to open up much more ample business opportunities for wireless charging applications.
"As a leading provider of power technology, Dialog has been closely paying attention to the momentum of wireless charging market. However, the reason Dialog did not rashly devote itself while coil-based wireless charging technology was on the rise is that we did not consider this technology as a practical solution to wireless charging," Mark Hopgood, Director of Strategic Marketing at Dialog stated.
"For consumers, wireless charging is expected to be capable of charging all sorts of electronic devices easily and flexibly, but in reality, existing wireless charging requires the device to be precisely placed on the chargers, and it imposes restrictions. Hence, in the past few years, although it has been a great hype in the market, as it could not completely fulfill users' expectations for wireless charging, it had not been considered successful," he stressed.
Strategic collaboration with Energous
Two years ago, Dialog found Energous, a start-up whose RF-based wireless charging technology once again triggered Dialog's interest in this market. However, since RF-based technology of any kind calls for approval of regulatory authority to ensure safety and anti-interference, Dialog had remained its conservative stance before Energous's technology received permission.
It was not until last summer had Energous announced a secured permission of FCC and become the first RF-based wireless charging technology that was approved by FCC, marking a significant milestone for its commercial application. Consequently, Dialog swiftly made a public announcement about its investment in and strategic collaboration with Energous, becoming the global exclusive supplier of Energous' WattUp wireless charging chips.
Hopgood states that Energous is a three-year-old startup, so for it to enter the consumer market, it demands sufficient resources to cope with large-scale production, technical services, reliability requirement, and so forth. By cooperating with Dialog, we shall assist them in chip testing, quality assurance, and on top of our close manufacturing relationship with TSMC, through which Energous gains access to more competitive production costs, supply chain synergies is demonstrated, creating a win-win situation.
Moreover, Dialog can make use of its leading Bluetooth Low Energy, power management, and AC/DC power conversion chips to complement with Energous's solution, enabling a comprehensive solution with cost-effectiveness and high scalability to target at a wide range of products, such as IoT devices, wearables, hearing aids, headphones, smartphones, and automobiles.
Unparalleled RF-based wireless charging technology
As Hopgood explains, different from the existing coil-based inductive or resonant wireless charging, the biggest breakthrough of WattUp technology lies within its RF-based wireless charging technology, which receives radio from transmitters and converts it to power, exempting the traditional coil design that takes up extra space. In addition, with the flexibility and compact size advantages of antenna designs, they allow wireless charging for small devices, such as hearing aids or IoT sensors, as well as greater freedom of orientation, which ensures effortless charging at any angle.
Such uncoupled wireless charging creates a whole new experience of using electronic devices whilst charging, with Dialog claiming it as the beginning of an unprecedented era of wireless charging 2.0.
However, Hopgood also indicates that compared to the existing inductive (A4WP standard) and resonant (Qi standard) wireless charging, these three technologies each has its strength in terms of cost, scalability, power, efficiency, size, distance, and so forth, and therefore shall continue to coexist in the market. What makes WattUp stand out in the market is that it can provide the same flexibility of A4WP standard, but the with same low-cost advantage of Qi. Therefore, it is particularly suitable for low power wearables and IoT devices. Moreover, WattUp is only capable of supplying 10 watts at maximum, so it is a completely different application from companies providing vehicles or public areas with high power wireless charging, such as WiTricity.
Based on Energous's product roadmap, WattUp has three different versions, near field, mid field and far field, whose charging distances are 5mm (contact type), 90cm, and 450cm respectively. Furthermore, depending on the distance, it provides different power specifications from several watts, hundreds of mW, to tens of mW respectively.
Therefore, according to to different charging distances and power, WattUp offers different wireless charging scenarios. For a near-field application, it is the most typical case of placing devices, such as phones, on a transmitter to allow for contact-type wireless charging, fully charging the phone. Nonetheless, its difference between the existing Qi standard is that WattUp doesn't require specific orientations, enabling random placing as well as improved flexibility.
As for a mid-field application, transmitters can be installed in PC to charge peripherals, such as keyboard and mouse, simultaneously. In this context, since the power supply is limited to only hundreds of mW, trickle mode is made capable of charging smartphones, maintaining phone battery power. The advantage is that phones can be used while its battery being kept easily, so manufactures can adopt batteries of a smaller capacity when designing phones, making phones thinner than ever.
Finally, in the case of a far-field application, due to the charging distance being 450 cm, IoT node devices, including smart homes and IoT sensors, can be charged remotely. It satisfies the need of IoT sensors for sustaining battery life for a longer number of years, offering a much more effective solution.
In response to the concerns over safety and interference for wireless charging technology expressed by the industry, Hopgood states that since WattUp operates around ISM band 5.8GHz, there is no interference with the existing WiFi or any other wireless communication technologies. Regarding mid-field and far-field versions, a beam-forming technology shall be incorporated to create a 3D energy pocket around the device as Bluetooth signal confirms the whereabouts of the charging device, continuing charging as the device moves. Besides, subject to the requirement of FCC, WattUp is constrained to immediately lower its power by 50% once the distance exceeds 1 meter to ensure safety.
He draws attention to the underlying fact that being granted FCC permission suggests consumers need not to worry about safety and interference issues. Following the permission given to near-field technology, Dialog had officially launched a relevant chip and evaluation board solution. Mid- and far-field solutions shall progressively make official launches Q3 this year and next year, then fostering an unparalleled wireless charging application. Meanwhile, Hopgood suggests that products which adopt the near-field solution are to be expected as of the end of this year.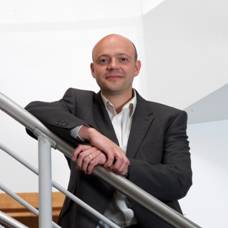 Mark Hopgood, Director of Strategic Marketing at Dialog