With strong foundation in Taiwan semiconductor industry, Spirox expands its China market to provide innovative and comprehensive services
Press release
Spirox Corporation, specializing in providing semiconductor testing solutions, celebrates its 30th anniversary this year. As hi-tech industry focus has developed from PC, mobile eras to the latest advancements of various IoT, industrial and automotive electronic applications, along with the rapid growth of China's semiconductor market in recent years, Spirox, aiming to keep the competitive edge in the new generation, plans out multifaceted strategies in respond to the market evolution and to explore market opportunities in a full stride.
"Spirox is customer-oriented and driven by a vision to provide integrated best-practice solutions and services. Based on 30 year professional experience in the semiconductor industry, we'll focus on delivering smarter solutions, and provide more competitive, productive, and practical solutions for customers and partners," said David Sheu, Chairman and CEO of Spirox.
Dedicated to delivering smarter solutions
Established in 1987, Spirox has expanded its presences in Taiwan, the States, and Singapore along with the growth of the semiconductor industry. After the company was listed on Taiwan Stock Exchange in 2002, it began to explore and gain a foothold in China market.Over the past thirty years, Spirox has always been devoted itself to delivering the most cost-effective, innovative, and comprehensive testing solutions, including testers, handlers, and test interface, to customers.
"Delivering Smarter Solutions is our persistent strategy," David Sheu stressed. "We focus on providing total solutions rather than point solutions to position ourselves not merely a distributor; instead, we aim to deliver value added and smarter total solution, and serve our customers with the best cost-performance advantages. In addition, as the advanced processes and device technologies keep progressing, we endeavor to enhance our competitiveness and business performance, so that we can provide customers with more professional services. On September 1st, 2017, Design and Verification Center of Spirox has been spin off and established VESP Technology Corp to deliver integrated and professional IC verification services. With Reliability Lab, FIB (Focused Ion Beam) Circuit Edit Lab, Failure Analysis Lab, and ESD/LU Lab, VESP Technology will provide one-stop-shopping services to meet customers' various requirements.
"Delivering Smarter Solutions" is the core of Spirox's future development plan. Spirox will expand to a wide range of application markets and services with its base in consumer testing business and professional expertise.
"Customers and market in Taiwan are mature, and the technical barrier is also higher," David Sheu said frankly. "In comparison, the growing China market not only has diverse demands, but also larger automotive and industrial markets with much more opportunities. Foreseeing this trend, Spirox has been focusing on China market with more resource inputs in recent years."
After deep plowing in China for a long time, Spirox has built strong relationships with multiple Chinese leading IC design houses, logic IC foundries, and LCD driver providers and is confident of its future growth. Meanwhile, Spirox also keeps exploring niche and potential markets, and building more comprehensive solutions, aiming to become the strongest support and trustworthy partner for its customers.
Targeting at MEMS, automotive, and industrial markets
Eyeing on the emergence of sensor markets driven by IoT applications, Spirox has invested in MEMS market for a long time.With its solutions being adopted by multiple customers, including Chipbond and Chipmos, Spirox is confident that MEMS business will expand further next year.
According to Max Chen, Vice President of Corporate Strategy and Marketing at Spirox, "We have built partnership with SITRI (Shanghai Industrial & Technology Research Institute) to set up a complete demonstration line of MEMS testing, including tester, handler, front-end picker, and back-end packaging equipment. Similar to Industrial Technology Research Institute in Taiwan, SITRI focuses on the researches of IoT, MEMS, automotive and bio chips, and owns more than one hundred IC design companies in China."
SITRI has its own 8-inch production line and will use this demonstration line to conduct mass-production testing, which will set an example to the industry and increase Spirox' brand awareness in this field. At present, the demonstration line, designed for motion sensor testing at first, is now expanding to pressure sensor and microphone testing. SITRI is building the second demonstration line, which will be used for pilot production, and it's expectedly to be adopted by customers in 2H18 for mass production.
Another major breakthrough that Spirox has made this year is to successfully secure design wins with its test interface at tier-one IC design houses in China for their base station and high-speed networking product testing. According to Max Chen, test interface, which includes IC carrier, probe, and fixture, is a low-cost product in consumer market. However, it is more difficult for test interface to enter high-frequency and high-speed markets, given the fact that these applications have higher requirements for electrical performance and reliability, and need to support environmental pressure and tri-temp testing. Material pin in the high-speed test interface is the key component for testing.Working with its business partner, Spirox provides customized material pin to meet customers' requirements.
The success case shows that Spirox can expand to the rapid-growing industrial and automotive applications from its existing base in consumer market.Similarly, for the electrical vehicle market that China government drives aggressively, Spirox starts from mmWave testing for automotive radar as a beachhead strategy.The product is now adopted by a customer and is expected to move into mass production in short future. Moreover, Spirox's testing solution for automotive MCU is also ready, and is in qualification process by customers.
Partnering with Hamamatsu and Toray to expand its portfolio
Another important strategy of Spirox is to collaborate with Hamamatsu Photonics, a leading supplier of electrical analysis equipment with the largest market share, to strengthen its verification service, and team up with Toray Engineering, a Japanese wafer testing equipment maker, to jointly explore the automatic optic inspection (AOI) market in Greater China, so that the company's existing testing business can be further extended.
"As TSMC drives to move the advance process nodes to mass production and China's smart phone and automotive markets grow rapidly, demands for material analysis, failure analysis, and reliability analysis are also on the rise," Max Chen said. "For high-end chips of advanced nodes, it is no longer sufficient to use static failure analysis alone. Conducting dynamic analysis on the operating functions of chips is required to know the root cause of chip failure."
Hamamatsu Photonics is a leading provider for static analysis equipment. In combination with Spirox's test solutions, Hamamatsu will be able to extend its business to dynamic analysis. In return, the partnership completes the failure analysis service Spirox provides. It's a perfect match for both companies, and the synergy is highly expected.
In addition, as electronic devices get increasingly smaller, the difficulty and error rate of using human eyes to inspect wafer defects are also on the rise. Therefore, it is inevitable trend to replace visual inspection with specialized equipment. Starting from 2017, Spirox distributes Toray Engineering's AOI equipment INSPECTRA to enter the AOI market in Greater China.
"Testing is the upstream process of inspection and failure analysis," Max Chen explained. "By working with new partners, Spirox can penetrate to new application market. This is an overall expansion of customer base, solution, and product portfolio. Most importantly, through providing wafer inspection and dynamic failure analysis, Spirox gets an entry ticket to memory testing market. In line with the rapid development of memory industry in China, it is expected that this approach will help boost our business significantly in the future."
Focusing on China market to explore more opportunities
"Spirox has been expanding service coverage throughout China for over a decade, with offices in Shanghai, Beijing, Hong Kong, Shenzhen, Chengdu, and Suzhou," David Sheu said. "With strong connections, as well as great reputation in IC design, foundry, and testing/assembly fields, we are very confident that Spirox will grow as China's semiconductor industry takes off."
In terms of sales prospect, it is expected that Spirox's business will be on track to growth by 1Q18 and enjoy a promising future for the next 2~3 years as customers in Taiwan and China recover their business.
"Spirox has laid strong foundation in the logic, RF, and power management IC testing of consumer electronics.In China, in addition to tier-one companies, the adoption rate of tier-two and tier-three companies is also increasing. Moreover, in response to market demands, we are expanding our testing service to LCD driver, TDDI (Touch with Display Driver Integration), and MEMS."
By working with customers, Spirox invested in the development of LCD/TDDI testing solution in 2016 and began to bear fruit in early 2017. David Sheu stressed that it's one of the most cost-effective solutions in the market, and will bring significant business growth for the company in next 2 - 3 years. At present, small- and medium-sized LCD driver testing solution is ready and Spirox will move into large-sized LCD and TDDI testing in 2018.
The difficulty for large-sized LCD driver testing is that both pin number and speed increase.Working with Xcerra and customers, Spirox has developed a complete solution to cope with the problem with better price-performance ratio. 4K/8K LCD TVs will drive significant demands for large-sized TDDI from 2018. TDDI, which integrates touch control and display function, will move from traditional COG (Chip-on-Glass) to COF (Chip-on-Film) process.
As a result,not only the number of drivers increases, but also the requirement for precision and testing is stricter.In response to this, Spirox has developed required test interface, including software, hardware, and electrical mechanism, to meet the testing demands for the next-generation TDDI chips.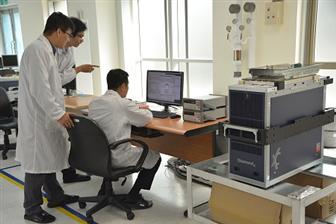 Spirox launches complete testing solutions for 4K/8K large-sized, high resolution, and TDDI integrated chips.
Photo: Company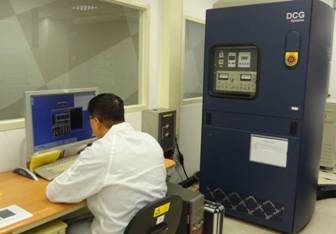 With the advanced capabilities and facilities, VESP Technology Corp of Spirox provides a full function of reliability and verification testing services.
Photo: Company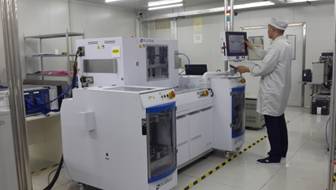 Spirox partners with SITRI to set up a complete demonstration line for MEMS testing.
Photo: Company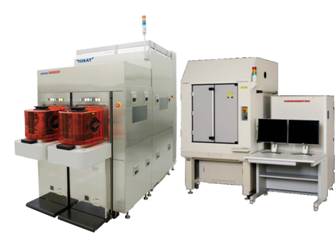 Spirox strengthens its partner network to expand the portfolio to AOI and dynamic failure analysis services.
Photo: Company

Spirox Corporation timeline
Photo: Company
DIGITIMES' editorial team was not involved in the creation or production of this content. Companies looking to contribute commercial news or press releases are welcome to contact us.