OCZ Technology shifted its corporate focus away from legacy DRAM memory modules in 2011, and has since built on its expertise in high-speed memory to become a leader in the design and manufacturing of solid state drives (SSDs). The year 2012 was another year of transition for the company, which moved to reduce its reliance on the consumer market and increase focus on delivering high performance, client and enterprise solid state storage solutions.
Alex Mei, chief marketing officer (CMO) at OCZ, talked about the company's new products and recent achievements, and shared his views on the SSD market, in a recent interview with Digitimes.
Q: How did OCZ and the storage market as a whole perform over the past year?
A: The SSD market matured greatly over the last year as more and more customers across both the client and enterprise spectrum adopted solid state technology for use in everything from ultraslim notebooks to the data center. Unlike many other product segments, the SSD market has continued to grow as storage and data processing continue to drive demand.
Last year was a year of transition for OCZ as the company exited a number of markets that have become highly commoditized; for example, the value SSD market where price is a primary factor. Rather than compete in the highly price-oriented value market, OCZ focused on introducing new differentiated products that leverage our own in-house IP. Examples of this include our Vector and Vertex 450 series drives which make use of OCZ's proprietary Barefoot 3 controller. The company also continued to push into the enterprise and shifted the mix between client and enterprise products.
Q: What is your direction on the enterprise market? Do you see growth in PCIe?
A: Today SATA continues to represent the largest portion of client and enterprise SSD sales for OCZ, but we continue to see not only opportunity but growth in PCIe-based SSDs. On the enterprise server and data center storage front, PCIe and SAS continue to grow as slots are available and PCIe delivers the highest performance and density. OCZ not only offers PCIe-based edge cards that are ideal for tiered and primary storage; we also have focused on combining the hardware with software for a complete solution. For example, our ZD-XL SQL accelerator is easy to deploy integrated hardware/software storage solution that accelerates and optimizes Microsoft SQL Server database applications in enterprise environments.
Q: What about workstation class PCIe, like your current RevoDrive series?
A: Client and workstation PCIe adoption also continues to increase as customers are looking for faster and higher density solutions that offer improved bandwidth over what traditional SATA interface and drives can provide. We are finding that the RevoDrive series has become popular among workstation users, enthusiasts looking for the highest transfer rates in high performance desktops, graphic designers and customers that put a premium on high speed processing when creating digital content. Moving forward you can see us continue to expand the RevoDrive series utilizing our own controllers.
Q: Can you talk about the client market and what it means for OCZ?
A: Though we have put a great deal of emphasis on growing our enterprise business, we have also remained committed to the client market.
Rather than sell products in the value segment, our product line now focuses primarily on the high-end and enthusiast space where we can differentiate and add value. Because OCZ has in-house controller and firmware technology, we are able to design drives that provide superior performance and features with the latest NAND. We are always looking for ways to improve performance, reliability and endurance.
For example, our flagship Vector line was designed to address both high performance and workstation applications so we focused on delivering superior sustained performance. While some competing drives perform great when they are fresh-out-of-the-box, that performance degrades quickly once the drives are in a "dirty" state. The Vector gets consistently faster sustained speeds with the complete spectrum of file types and sizes, including both compressible and incompressible data for balanced, long-lasting performance so that customers enjoy a superior overall computing experience over the long term. OCZ will continue to introduce high performance client drives whenever we can add value for end users.
Q: You launched new drives (Vector and Vertex 450) based on your own in-house controller and firmware. How are these products being received by customers?
A: Very well. Unfortunately over the past year we have had some NAND supply issues that have impacted our ability to provide some of the higher capacities, but in terms of performance and features, both these award-winning product lines have been utilized by customers in everything from gaming rigs to the latest mobile platforms. The OCZ Barefoot 3 controller and our in-house firmware help make the Vector series among the highest performing client drives on the market. Because we have this proprietary technology we are able to leverage the latest NAND types, including 19nm in our upcoming Vector 150 series, which is designed to shatter performance and endurance barriers once again.
Q: Can you tell us more about your enterprise SSD strategy?
A: Our enterprise strategy is to deliver superior value and features to our customers across a wide range of solutions. I say "solutions" because we are selling so much more than just enterprise SSD hardware.
While we offer traditional SATA, SAS and PCIe enterprise SSDs, we also provide enterprise software under our XL series that address everything from virtualization (VXL software) to database (ZD-XL SQL accelerator) and enterprise storage central management (StoragePro XL software). Together our enterprise hardware and software represent a complete solution that enables enterprise customers to get the most out of their flash-based storage.
OCZ will continue to develop plug-and-play solutions like our ZD-XL SQL accelerator that address specific applications, making it easier than ever for storage architects to deploy and start realizing the benefits of enterprise SSDs.
Q: Can you talk about the partnerships OCZ has established over the past year? And how they will contribute to company growth?
A: On the partnership side, OCZ continues to establish strategic partnerships on both the supply and distribution sides of the business.
The ability to develop our own controllers has enabled the company to be flash agnostic, allowing us to work with a wider range of NAND providers which improves availability of high-end flash. We have built up strong partnerships with the fabs that have helped fuel our enterprise data center growth, ensuring high quality and supply.
To make our solutions more accessible worldwide, OCZ has partnered with new distributors, like TechData for example, that allow us to better support the VAR channel. All of this has helped OCZ grow our enterprise and client SSD availability and reach.
Q: Can you share your views about the outlook for SSD? What is your business outlook for 2014?
A: The SSD market will continue to grow in terms of units sold as well as the number of devices that come integrated with this technology.
Previous objections in the enterprise like capacity and endurance are becoming less of an issue as the controller and firmware advancements help mitigate the issues with die shrinks, which at the same time help reduce cost and improve TCO for customers. At the same time we realize that while the SSD market continues to mature it becomes even more critical for us to differentiate our products, both through improved performance and feature-set.
SATA will continue to be the majority of the SSD market, but in 2014 we can expect to see rapid growth in the PCIe market, especially in the enterprise. For these reasons OCZ will continue to invest in developing next generation controllers that provide native support for these key interfaces and continue to work on improving access to the latest cutting-edge NAND. The SSD market continues to heat up and this is an exciting time for customers as the technology is now becoming much more mainstream and will improve everything from immersing yourself in the latest game title to accessing cloud-based applications.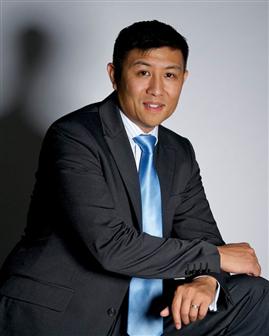 OCZ CMO Alex Mei
Photo: Company