As part of Toshiba, OCZ Storage Solutions is able to leverage Toshiba's NAND and combine it with its proprietary controllers, firmware and software. Toshiba's financial strength has also put OCZ in a better position to compete in the rapidly growing SSD market.
The combination of OCZ and Toshiba is a win-win, said OCZ CMO Alex Mei in a recent interview with Digitimes. Mei also talked about the company's market position and direction after becoming a Toshiba subsidiary, and shared his views on the global SSD market.
Q: Would you talk about the role of OCZ after being acquired by Toshiba?
A: As a Toshiba group company, OCZ Storage Solutions is now a wholly-owned subsidiary that will continue to focus on developing best-in-class solid state drive solutions for both the client and enterprise markets. Toshiba will continue to develop, produce and market their own line of Toshiba-branded SSDs, while we will focus on selling OCZ-branded SSDs that leverage our in-house technology through our own well-established global channels.
Q: What are the pros and cons of OCZ being a Toshiba subsidiary? And for Toshiba, what are the advantages of buying OCZ?
A: Obviously when you are a standalone company, you have the ability to drive your own strategy when it comes to products and marketing. The good news is that when Toshiba acquired all of OCZ Technology Group's assets, they also kept all the SSD engineering and R&D teams fully intact, enabling the team to continue to operate autonomously and put even more focus and resources on developing next generation products.
One of the biggest challenges that the previous organization faced was the lack of steady supply of NAND. This all changed once Toshiba acquired the company as we are now the only fully integrated solid state drive provider solely focused on SSD products. Together we have in-house controllers, firmware, application software, and as a Toshiba subsidiary, we now have direct access to NAND flash enabling superior optimization with early access to next-generation NAND technology, more competitive pricing and better overall product availability.
For Toshiba, this acquisition means bringing key SSD technology in-house and the ability to address an even wider spectrum of client and enterprise customers with quality SSD solutions.
Q: What changes have you made in your product roadmap and market focus after becoming part of Toshiba?
A: Our product roadmap has remained consistent through this transition, but we are taking steps to accelerate development of next-generation controllers and application software with our newly-infused additional resources.
The ability to get earlier access to next-generation NAND may also enable us to re-enter certain portions of the consumer market with more cost-effective products. In terms of market focus, we are firmly committed to supporting both the consumer and enterprise markets.
Q: In terms of market applications, what would become a growth engine for OCZ in 2014?
A: There continues to be explosive growth in the SSD market as end users continue to adopt solid state drives in everything from high-performance desktops to their mobile systems, and while we continue to cater to these key audiences we believe that storage acceleration and mass storage applications represent massive growth opportunities for OCZ Storage Solutions.
Now that we are a Toshiba group company, we can once again be competitive in the client SSD space, which has been dominated by the NAND suppliers. In the enterprise segment, there are significant opportunities for OCZ Storage Solutions to capitalize on when it comes to the shift to SSDs in the data center and cloud storage environments.
Q: Will you reorganize your product portfolio to satisfy demand from your parent company?
A: While I believe it is critical for any subsidiary to align with the key strategy of the parent company, it is also equally important that the company be given the autonomy to meet the unique needs of the individual customer base. This is the case with our new organization as Toshiba has provided us with the financial strength and NAND technology to go ahead and develop products that will address the distinct storage challenges that our client and enterprise customers face.
Q: Would you talk about OCZ's product focus for 2014?
A: We have already made the transition to Toshiba 19nm NAND on our top-selling Vector and Vertex client SSD families, as well as the new Intrepid 3000 enterprise SATA drives designed for the mega data centers. We will soon be introducing a new Z-Drive PCIe solution, the 4500 Series, that also leverages Toshiba NAND.
Moving to Toshiba NAND not only improves the cost structure for our customers, but also the availability of products, something which is critical in the enterprise market when large deployments require guaranteed supply. As we continue to focus on both the client and enterprise markets, our future products will continue to leverage our own in-house technology whenever and wherever possible so that we can offer our customers truly differentiated solutions. We are also making investments to introduce new PCIe SSDs beyond traditional edge cards, as well as M.2 SSDs that are both compact and extremely fast.
Q: Competitionin the SSD market is becoming fierce. How would you differentiate yourself from fellow SSD companies?
A: Competition has indeed heated up and the client and OEM market is already becoming dominated by the NAND providers. At the end of the day it all boils down to value for the customer. Can you deliver something that addresses their unique challenges, improves their application performance and delivers superior total cost of ownership? We believe that together with Toshiba we absolutely can.
Q: As an entity, how would you and Toshiba compete against chip vendors which also manufacture SSDs, such as Samsung?
A: Here is where the combination of OCZ and Toshiba really is a win-win. Together, OCZ Storage Solutions is now a fully integrated SSD provider with in-house controllers, firmware, application software and NAND. This enables us to develop and introduce compelling SSD products and total storage solutions that are cost competitive for consumers, OEMs and enterprise customers and provide plenty of added value.
Q: Can you share your views about the outlook for SSD? What is your business outlook for 2014?
A: As the flash storage market continues to mature, the consolidation among companies will continue to accelerate. The combination of Toshiba and OCZ is just one of the many combinations we have seen over the last year and a half, and as competition remains quite fierce in the SSD space the NAND suppliers are going to be in the best position to support customer price and supply requirements.
At the same time, I think this is going to be a very exciting period for SSD innovation as manufactures will continue to push the envelope in bandwidth, I/O consistency and sheer density, as well as bring up new interfaces and form factors to meet customers' increasing performance and cost requirements. 2014 will be an exciting growth period for our new organization as we move full speed ahead with OCZ-branded SSDs in the client space as well as now have the opportunity to fully engage enterprise customers backed with Toshiba financial strength, NAND technology and supply. We are very excited about what this combination represents for our current and future product offerings, as well as what it means for our valued customers, as we are now in a better position than ever before to address their unique storage challenges moving forward.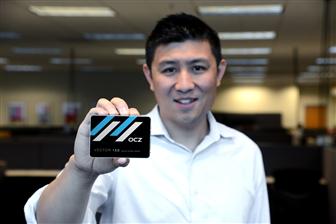 Alex Mei, CMO of OCZ Storage Solutions
Photo: Company