Digitimes Research: Taiwan 2Q13 IC design industry output value rises 21.5%
Nobunaga Chai, DIGITIMES Research, Taipei
Taiwan's IC design industry registered growth of 21.5% sequentially and 13% on year in output value in the second quarter of 2013, thanks to growing demand coming from China's smartphone and tablet sectors, according to Digitimes Research.
Taiwan's IC design industry generated combined revenues of NT$115.98 billion (US$3.88 billion) in the second quarter of 2013, said Digitimes Research. Combined revenues of Taiwan's top-10 IC design houses, including companies specializing in analog ICs, consumer ICs and niche-market memory chips, came to NT$75.52 billion in the quarter, up 23.2% from the prior quarter and 22.9% a year ago.
Orise Technology among Taiwan-based IC designers enjoyed the largest sequential growth in revenues in the second quarter, buoyed by rising shipments of LCD driver ICs for use in smartphones shipped to China, Digitimes Research indicated. Orise generated revenues of NT$2.93 billion in the second quarter, up 48.8% on quarter.
MediaTek remained the largest Taiwan-based fabless IC company in the second quarter of 2013, with revenues rising 38.8% sequentially to NT$33.28 billion, Digitimes Research disclosed.
This article is an excerpt from a Chinese Digitimes Research report. Click here if you are interested in receiving more information about the content and price of a translated version of the full report.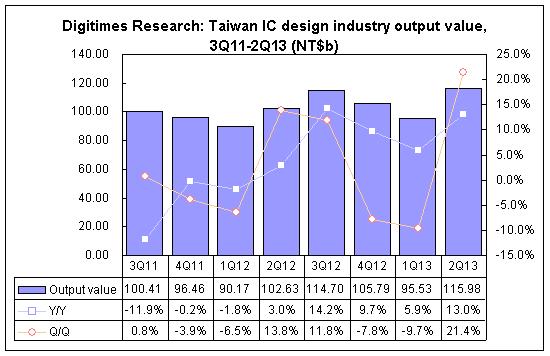 Source: Digitimes Research, August 2013