South Korea-based Samsung Electronics has announced the fourth generation of the Galaxy smartphone series, the Galaxy S4 that weighs 130g.
According to Samsung, Galaxy S4 has Full HD Super AMOLED display. The product's 5-inch large screen has 441ppi and utilizes Corning's Gorilla Glass 3.
Equipped with a 13 megapixel rear camera, the Galaxy S4 also boasts a dual camera function that allows simultaneous use of both front and rear cameras. At the same time, the product is also equipped with dual video call function.
The Galaxy S4 has a function called S Translator, which provides instant translation, using text or voice translation on applications including email, text message and ChatON.
The new product supports HSPA+42 Mbps and 4G LTE. Samsung said that the LTE version supports up to six different band sets which allows it to function in most LTE coverage areas as well as enabling global LTE roaming. Furthermore, TDD/FDD LTE Dual Mode version will be introduced later in 2013, said Samsung.
The Galaxy S4 is equipped with features that detect the user's face, voice and motions to enable screen control with no need for finger touch activation, according to Samsung. Samsung Smart Pause enables users to control the screen by where they look. When the user is watching a video, the video pauses when the user looks away then it starts right up again when the user turns back.
Samsung Smart Scroll allows users to scroll the browser or emails up and down without touching the screen. The feature allows the smartphone to recognize the user's face when the user is looking at the screen and the detects the movement of the user's wrist to scroll the pages up or down accordingly.
In addiiton, with Air View, users can change the music track, scroll up and down a web page, or accept a call with a wave of the hand, said Samsung.
Samsung Galaxy S4 will be available from the second quarter globally including the US market, partnering with telecom carriers such as AT&T, Sprint, T-Mobile, Verizon Wireless, as well as US Cellular and Cricket, Samsung said. In Europe, Samsung Galaxy S4 is partnering with global mobile operators such as Deutsche Telecom, EE, H3G, Orange, Telenor, Telia Sonera, Telefonica, and Vodafone.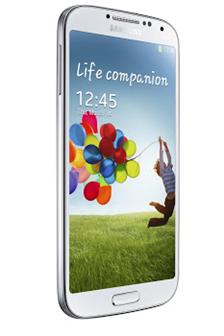 Samsung Galaxy S4
Photo: Company