Micron Technology reportedly has reached the final stage of talks on the purchase of Elpida Memory. The possible merger of Micron and Elpida will help to restore a healthier supply-demand balance to the DRAM industry.
A Japan Times report quoted unnamed sources as saying that Micron will have the right to negotiate exclusively to buy Elpida after offering a total of JPY220 billion (US$2.75 billion) for the bankrupt Japanese company. A final deal is expected to be concluded by the end of May 2012).
A combined Micron/Elpida entity would not only balance against the two dominant DRAM manufacturers - Samsung Electornics and SK Hynix - but also help the industry head towards a healthier state. The merger between Micron and Elpida is also expected to better leverage support provided by their respective affiliates and production partners in Taiwan.
Micron initially offered US$1.5 billion for Elpida - considered as a move to find out levels of acceptable prices for both seller and buyer. Hynix and Toshiba reportedly were among the other bidders, while Globalfoundries and China's SMIC were said to be interested to Elpida's Hiroshima plant.
Private equity firms - China's Hony Capital and TPG Capital of the US - reportedly have also teamed up to bid for Elpida. While rumors continue to spread about the fate of the Japanese chipmaker, Micron is believed to have won the bid and has entered merger talks with Elpida.
In a February report by IHS iSuppli, a possible merger between Micron and Elpida has the potential to dramatically redraw the competitive landscape of the DRAM space. The union between the two companies would catapult the newly consolidated entity to second place in the global DRAM market with a combined capacity of 374,000 wafer starts per month based on the latest available information, according to IHS.
The Micron-Elpida entity would have a 28% share of worldwide DRAM manufacturing capacity, placing it just behind leader Samsung, currently with 433,000 WSPM or 33% share of global capacity, IHS said. Hynix would fall to third place given a 23% share of capacity, or 300,000 WSPM, IHS noted.
The Micron-Elpida merger is also expected to consolidate and expand their respective partnerships with Taiwan-based DRAM firms including Nanya Technology, Powerchip Technology, Inotera Memories and Rexchip Electronics - a move to unite DRAM players from the US, Japan and Taiwan into an alliance to compete against their fellow Korean rivals.
In the mobile DRAM marketplace, Samsung led with a 53.8% market share in the fourth quarter of 2011 followed by Hynix with 20.8%. Micron's merger with Elpida would have their combined share reach 24.3%, outpacing Hynix's. Acquiring Elpida would also allow Micron to cut into the supply chain of Apple. Elpida began supplying mobile RAM chips for Apple's smartphone and tablet devices in the second half of 2011.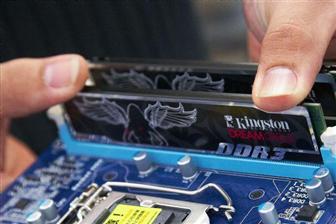 Micron said to be near acquisition of bankrupt Elpida
Digitimes file photo