Elpida Memory's bankruptcy filing reflects the fact that companies must diversify to cope with trends in the evolution of customer behavior and usage. The DRAM memory industry currently is encountering a shrinking market for traditional PCs, which have been are main DRAM consumer. The rising adoption of mobile computing devices such as tablets does provide an opportunity for DRAM makers, but such devices consume a lot fewer chips than desktops encouraging some chip suppliers to diversify their businesses.
Even for memory firms that offer both DRAM and NAND flash and have shifted their expansion focus to the latter product line, a substantial fall in DRAM demand and prices has prompted them to consider new directions to maintain their scale. SK Hynix (formerly Hynix Semiconductor), for instance, has revealed plans to diversify into the foundry business.
In fact, entering the foundry business is not new for DRAM makers, especially for second-tier players. History shows that during bad times, companies such as Powerchip Technology (formerly Powerchip Semiconductor, PSC) and ProMOS Technologies intended to increase their wafer starts for foundry production. But in the current circumstances, not only second-tier but also top-tier memory firms are seeing expanding their moves into the foundry business as a must.
SK Hynix, at the end of March, announced its goal to become a comprehensive semiconductor company, through providing foundry services for non-memory chips. The firm expects its mobile solutions business to account for 70% of revenues by 2016, from the current 40%.
Samsung Electronics has already taken a serious approach to expanding its logic foundry business. Having secured orders from Apple, Samsung is aggressively ramping production for application processors and is now considered a major rival to TSMC.
According to Gartner, TSMC still led the 2011 IC foundry market with a 48.8% share, compared to 47.1% in 2010. Samsung's foundry business, when including Apple's orders, generated about US$1.47 billion in 2011 and ranked as high as No. 4 in the ranking, Gartner said.
Powerchip's decision to shift to foundry has so far been successful. According to Gartner's data, its foundry revenues jumped almost 200% in 2011 to help the firm move up nine spots to No. 10 among IC foundries. Powerchip's sufficient 12-inch fab capacity has attracted orders for LCD driver ICs, CMOS sensors and power management chips.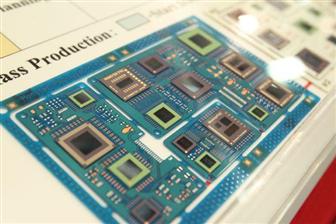 Falling PC demand encouraging DRAM makers to diversify
Photo: Digitimes file photo