Chimei Innolux will be Taiwan's top supplier of large-size TFT-LCD panels in the second quarter by shipping 32.11 million units, followed by Au Optronics (AUO) with shipments of 30.66 units.
Taiwan-based panel makers will ship an estimated 71.28 million large-sized (over 9 inches, including for use in tablet PCs) panels during the second quarter of 2011, rising by 9.4% on quarter and by 1.6% on year and accounting for 40.3% of global total, according to Digitimes Research.
Besides CMI and AUO, the other Taiwan-based suppliers of large-size panels are Chunghwa Picture Tubes (CPT) and HannStar Display.
Taiwan-based TFT-LCD panel makers: Breakdown of 1Q11 shipment volumes (m units)

Company

Main applications

Total shipments

TV

Monitor

Notebook/tablet PC

CMI

11.45

11.81

8.85

32.11

AUO

9.35

8.12

13.19

30.66

CPT

1.54

2.48

1.71

5.73

HannStar

0

0.34

1.64

1.98

Total for each application

22.34

22.75

25.39

70.48
Source: Digitimes Research, compiled by Digitimes, May 2011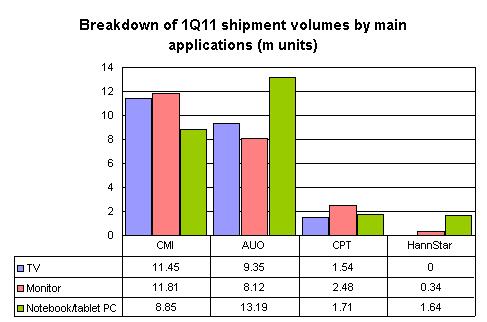 Source: Digitimes Research, compiled by Digitimes, May 2011