Latest data collected by Digitimes Research show that Taiwan makers' large-size LCD panel shipments (9-inch and larger models and including those for tablet PCs) decreased 1.4% sequentially to 65.15 million units in the first quarter of 2011.
In comparison, global shipments of large-size flat panels were down 5% to 160.72 million units during the same period with shipments from Taiwan makers accounting for a 40.5% share.
With sales of LCD TVs from international major players falling short of their targets and China-based TV vendors recording flat performance during the first quarter, Taiwan's LCD panel makers saw their first-quarter shipments of TV panels decline 4.8% sequentially.
With regard to shipments of IT panels, including those for monitor, notebook and tablet PC applications, the performance of Taiwan-based makers was better than industry average.
Among Taiwan's makers, Chunghwa Picture Tubes (CPT) posted the highest 3.3% sequential growth rate in shipments of large-size LCD panels in the first quarter, while AU Optronics (AUO) saw its large-size panel shipments edge up 1.4% on quarter, buoyed by increased shipments for IT applications.
Although LG Display saw its large-size LCD panel shipments drop 15% sequentially in the first quarter, shipments of table PC panels by Taiwan-based makers still lagged far behind those shipped by LG Display, the Digitimes Research data show.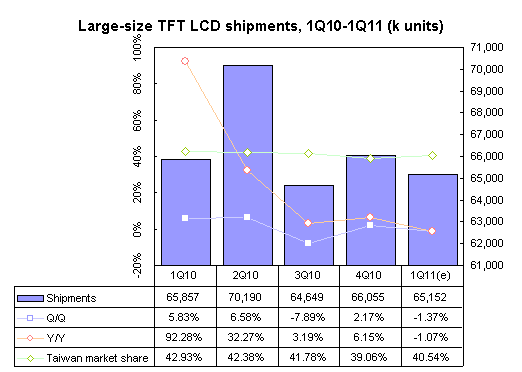 Source: Digitimes Research, April 2011