Digitimes Insight: Japan earthquake impact on semiconductor industry
Nobunaga Chai, DIGITIMES Research, Taipei
Areas affected by Japan's March 11 earthquake, aftershocks and the quake-triggered tsunamis include the prefectures of Fukushima, Miyagi, Aomori, Yamagata, Iwate and Akita.
Not to mention its focus on the development of agriculture and tourism, northeast Japan is also considered one of the nation's major manufacturing locations. Several of Japan's major semiconductor companies locate their manufacturing spots in the northeast prefectures, for example, Toshiba's 8-inch wafer fab in Iwate, Renesas Electronics' factories in Aomori, Hokkaido and Yamagata, Elpida Memory's backend manufacturing facility in Akita and Fujitsu's plants in Fukushima.
Disruptions in transportation and power infrastructure will inevitably have a certain degree of impact on chip companies. Moreover, there is also concern about supply constraints for upstream materials.
With its major production hub in Nishigo Village of Fukushima, a prefecture close to the epicenter of the earthquake, Shin-Etsu Handotai (SEH) is expected to suffer significantly from the impact. SEH is still unable to disclose when normal operations at the facilities can be resumed.
SEH's Shirakawa plant, Fukushima Prefecture, produced about 22% of total silicon wafer demand in the world in 2010. Monthly capacity at the plant reaches as high as 800,000 12-inch wafers, accounting for more than 60% of SEH's overall production capacity of 1.2 million units.
Many chipmakers have claimed that they are capable of activating alternatives if necessary. In addition, wafer inventory among companies remains at a sufficient level of two to three months. However, if SEH's supplies cannot return to normal over a longer period of time, the semiconductor market will struggle with wafer shortage issues later in the year.
In 2010, Japan's semiconductor industry generated sales of US$44.6 billion, up 16.4% from 2009 levels. The growth also represented a recovery for the sector following two years of sales drops. Japan accounted for 15.9% of total semiconductor revenues worldwide in 2010, compared to 16.9% in 2009 and 19.5% in 2008.
Japan top-5 semiconductor companies: Revenues and worldwide ranking, 2009-2010 (US$m)

2010 Japan rank

Company

2010 revenues

2009 revenues

Y/Y

2010 WW rank

2009 WW rank

1

Toshiba

13,081

10,319

26.8%

3

3

2

Renesas

11,840

5,153

129.8%

5

9

3

Elpida

5,678

3,948

74.2%

10

15

4

Sony

5,336

4,468

19.4%

14

10

5

Panasonic

5,128

3,243

58.1%

15

18
Source: Digitimes Research, compiled by Digitimes, March 2011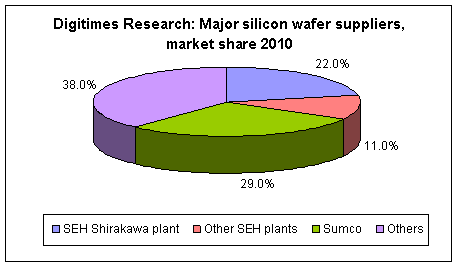 Source: Digitimes Research, compiled by Digitimes, March 2011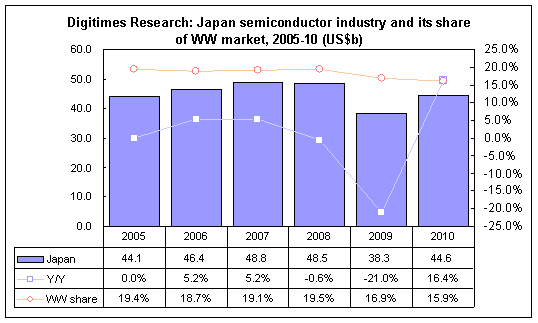 Source: Digitimes Research, compiled by Digitimes, March 2011