Quanta Computer recently showcased a new touch screen technology - Optical Touch – that will be compatible with Microsoft Windows 7.
The technology does not use a capacitive or resistive touch panel, and instead places cameras on the top corners of the display. The two cameras locate the user's finger position and transfers the mouse pointer to that location.
The technology also supports multi-touch gestures such as rotate, zoom-in and zoom-out.
The advantage of the technology compared to traditional touch panels is its cost-effectiveness, since the technology only requires two cameras. However the advantage scales with panel size meaning the smaller the panel, the less the cost-effective Optical Touch is compared to traditional touch-panel technologies, according to representative from Quanta.
Quanta has already applied the technology on both monitors and notebooks and finished products will start mass production soon, added the company representative.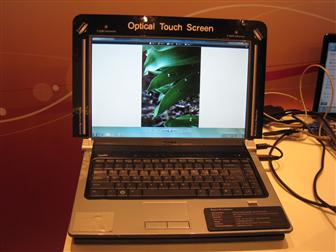 A Dell notebook featuring Quanta's Optical Touch Screen technology
Photo: Joseph Tsai, Digitimes, December 2008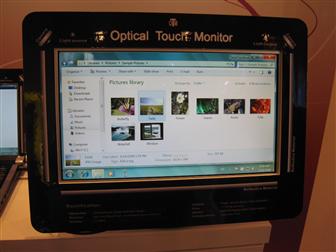 A monitor featuring Quanta's Optical Touch Screen technology
Photo: Joseph Tsai, Digitimes, December 2008