With Aiptek International's PocketCinema V10 handheld projector winning the WinHEC award for media and entertainment, the company chairman, Peter Chen pointed out that this is not the end, the company is still planning to implement more technologies and functions into the product.
The majority of requests from the company's partners and customers regard improving of the current product such as increasing brightness, lowing power consumption, or reducing cost, but Chen's goal is to implement wireless communication capabilities into the projector to allow users to download and display content anywhere they go.
The company is also considering implementing Windows CE into the product, so the projector could support more file types such as PowerPoint.
The product's current LED light-source consumes relatively high amounts of energy only allowing up to an hour of usage without power, but Chen believes improving LED technology will help the product to consume less power and boost battery life.
Currently, the product's sales are spit evenly between the enterprise and consumer market, Chen detailed.
Aiptek PocketCinema V10 handheld projector specifications

Item

Detail

Display technology

LCoS (Liquid Crystal on Silicon)

Light source

White LED

Luminous flux

10 Lumens

Projection resolution

640×480 Pixels (VGA)

Aspect ratio

4:3

Projection image size (Diagonal)

6- to 42-inch (15-127cm)

Projection distance

8- to 70-inch (21cm-180cm)

Zoom and focus

Manual

Playback file format

Photo

JPEG

Video

MPEG-4 and H.264

Audio

MP3

AV interface

3-in-1 AV phone jack

Audio

Stereo, 0.5W

Internal memory

1GB

External memory

SD / SDHC / MMC / MS Pro
up to 8GB (Not Included)

Remote control

Included

Dimensions

4.9-inch × 2.1-inch × 0.9-inch

Weight

5.2 oz. (without battery)
Source: Company, compiled by Digitimes, December 2008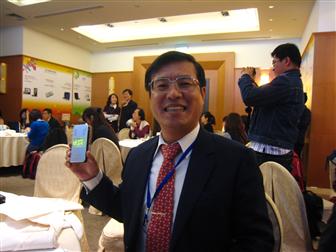 Peter Chen, chairman of Aiptek, holding a PocketCinema V10 handheld projector
Photo: Joseph Tsai, Digitimes, December 2008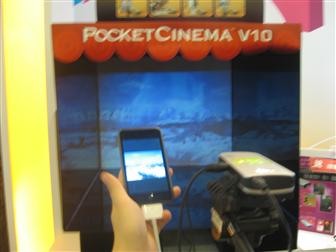 A PocketCinema V10 is connected to an iPod Touch
Photo: Michael McManus, Digitimes, December 2008