Computex 2008: AMD unveils new notebook graphics solutions and server processors
Rodney Chan, DIGITIMES, Taipei
AMD has launched several new graphics solutions for notebooks and new processors for servers – the ATI XGP (external graphics platform) technology, the ATI Mobility Radeon HD 3800, the ATI PowerXpress, and the quad-core Opteron 1300 series.
XGP technology, a new external PCI Express (PCIe) 2.0 graphics platform, is designed to deliver enthusiast-class desktop graphics performance and true multimedia upgradeability to notebooks, according to the company.
ATI XGP capitalizes on PCIe 2.0 to deliver graphics via a connected cable to an externally powered and cooled device, delivering up to 4.0Gb/s bandwidth in each direction between the notebook and external graphics. XGP is fully optimized for new AMD Turion X2 Ultra (Puma) notebook platforms, which AMD also announced.
The Radeon HD 3800 offers notebook manufacturers the ability to deliver fast graphics performance, energy-efficient 55nm graphics processor technology, and for the first time ever, ATI CrossFireX technology for a mobile graphics solution, highlighted AMD.
The Radeon HD 3800 series coupled with AMD Turion X2 Ultra processors, the AMD 7-Series chipset, and industry-leading wireless technologies such as 802.11n Draft 2.0, form the next-generation AMD notebook platform.
According to AMD, ATI PowerXpress users can double or triple the performance of the IGP when plugged into a wall socket or extend their battery life by over an hour while on the go.
Previously announced earlier this year as a variant of ATI Hybrid Graphics Technology for notebook computers, ATI PowerXpress allows notebook users to manually or automatically switch between an ATI Mobility Radeon HD 3400 series discrete graphics processor and an integrated AMD M780G with ATI Radeon HD 3200 graphics without rebooting their notebook.
ATI PowerXpress features can also be accessible and user configurable via the Catalyst Control Center. The first notebooks to take advantage of ATI PowerXpress are available from Fujitsu-Siemens Computers, AMD said.
Notebook vendors including Taiwan-based Acer, Asustek Computer and Micro-Star International (MSI) are all planning to release products based on the new platform.
Addressing customer demand for higher performing, uni-processor x86 solutions, AMD has introduced three new quad-core AMD Opteron 1300 series processors for one-socket servers and workstations.
The company said global first-tier OEMs including HP and Dell plan to incorporate the new processors into upcoming platforms, and global supercomputer leader Cray is now shipping Opteron 1300 series processor-based Cray XT4 systems and upgrading some of the world's fastest supercomputers to incorporate Opteron 1300 series processors.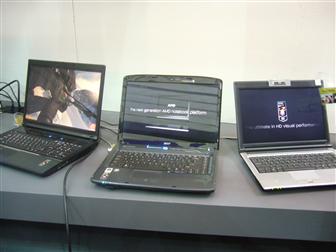 A trio of new Puma-based notebooks from Taiwan-vendors MSI, Acer and Asustek
Photo: Ricky Morris, Digitimes, June 2008