153 news items tagged Broadcom
Intel will adopt the Texas Instruments-developed (TI) WL1283 Wi-Fi/Bluetooth/GPS chips for its Medfield platform to be launched in the second quarter of 2012 and Broadcom-developed...

Transceivers are essential to the performance of mobile devices. They are designed to detect weak signals at a specific frequency when receiving and to send signals at a specific...

GigaFast E Ltd, a OEM/ODM manufacturer of HomePlug power line communications (PLC) equipment, has launched a new HomePlug AV 200Mbps nano Ethernet Bridge (PN928-EB) at the China Sourcing...

Broadcom reportedly plans to call it quits from the chip market for TVs and Blu-ray players due to low gross margins and return on equity (ROE) generated from the product lines –...

Broadcom and NetLogic Microsystems have entered into a definitive merger agreement, under which NetLogic shareholders will receive US$50 per share in a transaction of approximately...

Late last year the Wi-Fi Alliance introduced the Wi-Fi Direct peer-to-peer specification that allows Wi-Fi devices to talk to each other without the need for wireless access points...

With orders from the communications sector slowing down, Taiwan Semiconductor Manufacturing Company (TSMC) is expected to generate a 5% drop sequentially in total wafer starts in...

Recently several handset IC companies have announced integrated mobile processors – products that integrate baseband processor and application processor together with graphics...

Several years ago there was a widely accepted expectation that application mobile processors would be fully integrated with baseband processors on a single chip. However, today we...

Long dominated by Ikanos Communications, the VDSL semiconductor market recently has become much more competitive, according to IHS iSuppli. The market researcher also projects that...

News of Ralink being targeted for acquisition has never stopped ever since the company's preparation to go public to its being actually listed on the Taiwan Stock Exchange (TSE)....

Industry sources have revealed that Broadcom approached Ralink Technology for preliminary acquisition talks in November 2010 with a final decision expected to be made in March or...

There are 13 fabless IC companies expected to register more than US$1 billion in sales this year, compared to 10 companies in 2009 and eight in 2008, according to IC Insights.

Broadcom Corporation has introduced a customized, highly integrated and cost-efficient DOCSIS Ethernet over Coax (EoC) for Ethernet Passive Optical Network (EPON) solution in support...

While about 13-14% of fixed-line broadband Internet-access subscribers use WLAN devices in China currently, the market will be one of the major forces to drive growth in the global...

International networking chipmakers, including Broadcom and Atheros Communications, have reportedly shortened the delivery lead times for WLAN chips due to recent downward shipment...

Broadcom plans to launch its in-house developed wireless connect middleware, the Maestro, for design-in by terminal-end and peripheral device makers as well as by other chipset vendors...

Michael Hurlston, senior vice president and general manager for the Home and Wireless Networking Business Unit at chip specialist Broadcom recently sat down with Digitimes to share...

Broadcom and Atheros Communications as well as Taiwan-based WLAN chipmakers Ralink Technology and Realtek Semiconductor all are showcasing their latest 802.11n wireless solutions...

Broadcom has been cooperating with the three largest mobile telecom carriers in China to set up interoperability standards for 10G EPON (Ethernet Passive Optical Network) technology...

Broadcom reportedly has informed its downstream clients in Taiwan that the supply of its WLAN chips will ease in May or June 2010, according to industry sources.

The currently long delivery lead times of 16-20 weeks for Ethernet switch chips from most chip vendors, including Broadcom, will continue in the first quarter of 2010, defying seasonal...

IRVINE, Calif., Dec 15, 2009 -- Broadcom Corporation (Nasdaq: BRCM), a global leader in semiconductors for wired and wireless communications, today announced that it is the first...

International WLAN chip vendors are stepping up their cooperation with China-based device makers – a move that will challenge the leading position of Taiwan-based suppliers...
Related photos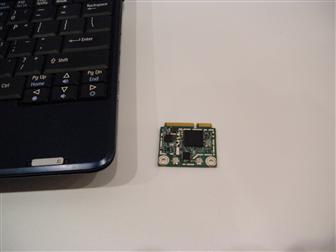 Computex 2009: Broadcom unveils Bluetooth+Wi-Fi module for netbooks
Photo: Meiling Chen, Tuesday 9 June 2009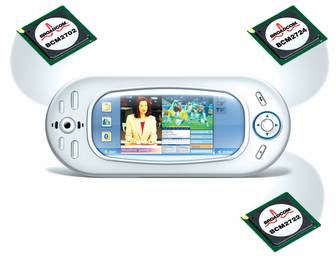 Broadcom launches new Bluetooth chips
Photo: Company, Tuesday 21 February 2006
Related news around the web