148 news items tagged Broadcom
Taiwan Semiconductor Manufacturing Company (TSMC) has seen some of its major clients including Qualcomm, Broadcom and OmniVision slow down the pace of placing orders and cut back...

Just before Computex 2013, Digitimes spoke with Jeff Baer, marketing director for Embedded Wireless, Wireless Connectivity Combo at Broadcom to find out more about Broadcom's push...

Demand for video, especially high-definition video, is pushing players in the mobile telecom industry to continually seek new ways to increase bandwidth. On the network side, telecoms...

In a relentless competition against rivals including Qualcomm, Nvidia and Media in the smartphone chipset market, Broadcom's mobile solutions have found their way into the supply...

Compal Communications has for the first time adopted a reference design platform offered by Broadcom to develop entry-level Android smartphones with the first wave of such models...

IC distributor Alltek Technology is expected to post flat performance in the first quarter of 2013, affected by seasonal factors. But sales of IC parts from Micron Technology and...

Demand for high-end smartphones in China has been higher than expected and could be even higher than that for entry-level and mid-range models, pushing local branded and white-box...

The ongoing trend for smartphones to replace feature phones in China will continue in 2013, with new smartphone offerings to come out with advanced functionalities as well as higher...

The Petrov Group has announced a new 333-page/211-figure report titled "Texas Instrument's Power Business - Edition 2012". Texas Instruments (TI), the largest analog IC...

IC distributor Alltek Technology has posted record monthly revenues in July 2012 at NT$1.08 billion (US$36 million), up 39% on year. Alltek credited the positive performance to strong...

The global smartphone applications processor market showed a solid 55% on-year growth in the first quarter of 2012, reaching US$2.47 billion, according to Strategy Analytics. The...

Samsung's acquisition of part of CSR has established it as a new player in the connectivity market, specifically in the key battleground of the smartphone. Whilst Broadcom has been...

The first generation Wi-Fi launched 15 years ago brought forth wireless LAN (WLAN) applications, and the newer Wi-Fi standards that ensued have been providing faster transmission...

Chip vendors including Qualcomm, Broadcom, STMicroelectronics, NXP, Texas Instruments (TI) and OmniVision reportedly have started stocking their solutions used for Apple's next-generation...

One of the hot trends in the IT industry is the rollout of 802.11ac Wi-Fi products. Branded Wi-Fi 5G by Broadcom, 802.11ac offers a promise of improved wireless reliability, range...

Broadcom recently announced the industry's first 100Gbps full duplex network processor unit (NPU). Targeting the next wave of 100GbE switches and routers for service provider networks,...

China's domestic smartphone market is expected to flourish in 2012. Taiwan-based mobile chip maker MediaTek is expected to meet strong competition from firms such as Qualcomm, Broadcom...

Mobile phone makers Samsung and HTC both target 4G phone shipments in March to exceed one million units. Shipments in second-quarter 2012 are likely to reach 5-10 million units. Suppliers...

IC distributor Alltek Technology expects products used for wireless and LED applications to drive its revenue growth in 2012. Overall, the company is more optimistic about its sales...

802.11ac will become the mainstream WLAN technology standard as early as the second quarter of 2013 or as late as the first quarter of 2014, according to senior vice president Michael...

Intel will adopt the Texas Instruments-developed (TI) WL1283 Wi-Fi/Bluetooth/GPS chips for its Medfield platform to be launched in the second quarter of 2012 and Broadcom-developed...

Transceivers are essential to the performance of mobile devices. They are designed to detect weak signals at a specific frequency when receiving and to send signals at a specific...

GigaFast E Ltd, a OEM/ODM manufacturer of HomePlug power line communications (PLC) equipment, has launched a new HomePlug AV 200Mbps nano Ethernet Bridge (PN928-EB) at the China Sourcing...

Broadcom reportedly plans to call it quits from the chip market for TVs and Blu-ray players due to low gross margins and return on equity (ROE) generated from the product lines –...

Broadcom and NetLogic Microsystems have entered into a definitive merger agreement, under which NetLogic shareholders will receive US$50 per share in a transaction of approximately...
Related photos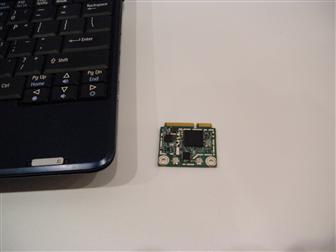 Computex 2009: Broadcom unveils Bluetooth+Wi-Fi module for netbooks
Photo: Meiling Chen, Tuesday 9 June 2009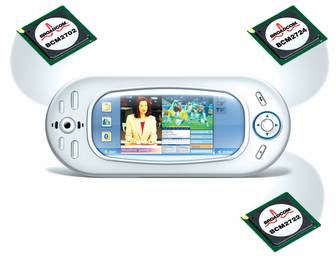 Broadcom launches new Bluetooth chips
Photo: Company, Tuesday 21 February 2006
Related news around the web