153 news items tagged Broadcom
Broadcom's new Wi-Fi and Bluetooth single-board combo solution has been adopted by Acer, Asustek Computer and Lenovo, which tend to use its Taiwan-based rivals' solutions for entry-level...

United Microelectronics Corporation (UMC) recently offered foundry quotes of around US$4,500 per wafer for 65nm process, 10% lower than those from Taiwan Semiconductor Manufacturing...

Taiwan Semiconductor Manufacturing Company (TSMC) is expected to see revenues for the fourth quarter remain flat or increase by low single-digits sequentially, according to market...

Broadcom will stat shipping handset baseband ICs to Nokia by the end of 2009, according to the company's Taiwan country manager Dana McCarty. Samsung Electronics has also begun adopting...

HTC (High Tech Computer) is evaluating the possibility of adding Broadcom to its supplier list of 3.5G chipset solutions to fulfill its goal of introducing more entry-level and mid-range...

Synaptics has secured touchscreen solution orders for Nokia's recently announced X-series handsets, according to market sources. Synaptics is expected to see record shipments of touchscreen...

Both Broadcom and Ralink Technology are seperately scheduled to roll out integrated chips that combine Bluetooth and WLAN capabilities for ultra-thin notebooks between the end of...

Order visibility at both Taiwan Semiconductor Manufacturing Company (TSMC) and United Microelectronics Corporation (UMC) has extended to November 2009, with utilization rates expected...

Most handset chipset solution providers around the globe are experiencing a new wave of short lead-time orders as branded handset players anticipate a 30% sequential growth in the...

With the new iPhone 3GS's Bill of Materials (BOM) and feature set nearly the same as the previous model in the iPhone line, you might think the product's component selection would...

Broadcom has recently introduced a family of netbook products, including Crystal HD solution, which has been selected by Hewlett-Packard (HP) and Acer, and three InConcert modules.

While the traditional WLAN market has been sluggish due to a slump in the economy, chip specialist Broadcom recently noted that the company has seen a rebound in its traditional WLAN...

Taiwan Semiconductor Manufacturing Company (TSMC) and United Microelectronics Corporation (UMC) are expected to report better-than-expected performance for the third quarter as both...

Cellular baseband revenues are not yet significant for Broadcom, and thus, the company may have to continue its aggressive acquisition strategy in order to build a product range and...

Intel is working with chipmaker Broadcom to enhance the HD decoding capabilities in its next-generation netbook platform (Pine Trail), according to sources at notebook makers.

Some Taiwan-based makers are offering 802.11n single-chip solutions at prices below US$2 per unit, compared to US$3-4 offered by players such as Broadcom, Atheros and Marvell, in...

The accumulated 10% revenue growth during the first three quarters of 2008 was wiped out by a 23.3% decline during the last three months of the year, causing annual growth for wireless...

Qualcomm and Broadcom have announced that they have entered into a settlement and multi-year patent agreement. The agreement will result in the dismissal with prejudice of all litigation...

Broadcom is looking for brisk sales for its Ethernet switching solutions from the telecom and IDC (Internet data center) network equipment sectors as the two segments will continue...

Worldwide semiconductor revenues went down 5.4%, or a decrease of US$14.5 billion, to US$255 billion in 2008, according to the final market share analysis by Gartner Dataquest. The...

Broadcom ranked at the top of ABI Research's latest worldwide GPS IC vendors evaluation.

Single chip 1X1T 802.11n solutions are expected to largely replace 802.11g chips this year because the price difference between the two has narrowed, according to industry sources.

Broadcom has extends its combo chip portfolio with an integrated GPS, Bluetooth and FM radio solution that delivers location based services (LBS) and multimedia in a single-chip de...

Broadcom has introduced Edge and 3G handset baseband chips and gained design wins from Samsung Electronics and Nokia. It has also launched 65nm DTV and Blu-ray Disc chips in line...

Apple is rumored to possibly be considering adding Broadcom to its iPhone supply chain, according to Taiwan OEMs who have seen Broadcom's baseband and RF chips on PCBs believed to...
Related photos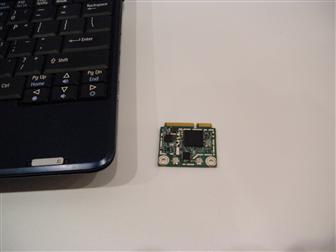 Computex 2009: Broadcom unveils Bluetooth+Wi-Fi module for netbooks
Photo: Meiling Chen, Tuesday 9 June 2009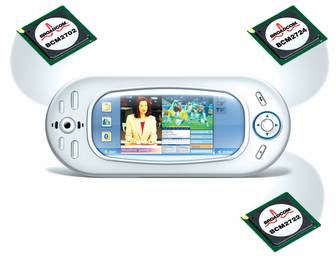 Broadcom launches new Bluetooth chips
Photo: Company, Tuesday 21 February 2006
Related news around the web