For a professional media outlet dedicated to studying IT industry developments, the most important responsibility is to present accurate observations at crucial moments. India will enter its fiscal 2018 on April 1, and the country, besides adjusting budgets to reflect its national policies, will enforce new tariff measures such as hiking import duties on handsets, TVs and related key parts and components. Is this a move designed by the India government to address the ever-expanding deficit in trade with China or to drive the localization of related industries? India's home-bred handset players Micromax, Lava, Kabornn and Intex have seen their domestic market shares fall under 3% for the moment although they were top-ranked ones during my trip to India two and a half years ago. Will the tariff protection alone be able to help revive India makers?
India customs authorities have warned that imports of 32-inch TV sets from China will face drastic cost increases, the import duty on handsets will be boosted to 20% from 15%, and tariffs on imported LCD, charging devices and other related parts will be raised to 15% from 10%. China makers will bear the brunt of the impact from the tariffs adjustments, but what about Taiwan makers?
Is it the best time now for Taiwan businesses to enter the India market or should they observe further and wait a little longer? In exploring the opportunities in India, should they give priority to securing the services of the local talent or to capturing market share? And how can they best foray into the market, through building joint ventures, making sole investments or simply serving as behind-the-scenes providers of components and turn-key solutions? India is a pluralistic market with great depth, and therefore it is impossible for Taiwan businesses to rely on junior managers or plant managers to handle the local market there.
Battles raging in the fast growing mobile phone market
Since 2012, the India smartphone market has grown fast. But its neighbor China has been miles ahead in the smartphone space, having already developed a homegrown supply chain - backed by the vast domestic market and also gradually expanding its global presence - that has grabbed seven seats among the world's top-10 smartphone brands. India is keen to emulate China's success.
In India the number of people who own handsets is estimated at about 700 million at present, of which about 300 million use smartphones, and the number of smartphone users is expected to break the 400 million mark in 2020. And according to forecasts by IAMAI and Kantar, the number of Internet users in India - via fixed-line and mobile networks - will hit 500 million by June 2018. This is the key factor which India deems will attract investments from foreign businesses.
India has a total population of 1.25 billion, translating into 250 million households (granted that each of them has five members on average). In theory, this means unlimited business opportunities. But telecom operators use low rates to subsidize consumers locked with terminal devices, leading to extremely unreasonable market structures. To attract first-time users, telecom firms now charge only US$12 per year from consumers using old-spec handsets carrying a unit price of US$25 locked and supplied by local handset makers, thus allowing telecom operators to enjoy a fast expansion in the number of new handset users.
China's vendors have been keen to tap the India market, with substantial success. China smartphone brand Xiaomi has claimed it is not running any promotional ads, turning all savings from advertising costs into consumer benefits. In contrast, other China vendors such as Vivo and Oppo have launched massive promotion and advertising campaigns to enhance brand recognition among India consumers, sponsoring cricket contests and posting ads at subway stations. While these top China brands have established strong footholds in India, Bird-branded feature phone models - those that were rolled out 7-8 years ago in China and can hardly be found in China now - are still available in India, serving the entry-level market segment. These Bird phones carry virtually zero cost as they have been fully depreciated.
For Samsung, its advantages in key components has helped secure its firm leadership in the high-end smartphone market segment both gloablly and in India. In 2017, Samsung scored profits of up to US$50 billion, with 70% of them coming from semiconductor transactions that were mostly conducted in Shenzhen, Singapore and Hong Kong, preventing second-tier markets from having unrestricted access to supplies. This gives much space for Samsung to maneuver its smartphone business. In India, for instance, Samsung has managed to command a share of over 60% in the high-end smartphone market segment, leveraging mostly its Galaxy A and J series that boast high price-performance ratios, instead of the flagship Galaxy S and Note series.
Backed by multiple favorable factors, India unseated the US in 2017 as the world's second largest country in terms of app downloads, next only to China. According to a report issued in mid-January 2018 by App Annie, the US saw a negative 5% growth in app downloads over the past two years, while India posted a whopping corresponding growth of 215%. Moreover, India consumers use an average of over 40 apps per month, higher than those recorded by their China and Brazil counterparts.
There are now over 700 TV channels in India, and many people there watch TV using smartphones. At the moment, US-based Netflix and Amazon Prime Video offer free services for the first year of usage in India, and local telecom firms provide users with unlimited data access at low charges. And cross-subsidization has sent the market into a chaos that leaves foreign system operators mired in a "muddy" market there.
The dominance of China vendors
While advertising signs of Oppo and Vivo can be easily seen at places from subway stations to high streets in Dehli, Xiaomi has highlighted its practice of sharing the marketing cost savings with consumers. Anyway, Oppo's move to invite Bollywood stars to endorse its products and Xiaomi's online marketing gimmicks are both designed to extend sales reach beyond their heavily saturated domestic market in China. For China vendors, India is one of those markets that can expand their global presence or fill up their production capacities.
IDC statistics show that Xiaomi commanded a 50.8% share of online sales of smartphones in India in the third quarter of 2017. In February 2018, Xiaomi's major offering - the Redmi 5 featuring Qualcom's Snapdragon 632 chipset, a 5.99-inch screen and 4GB RAM - is priced at INR9,999 (US$154.58).
Boasting a market capitalization of US$100 billion, Xiaomi has taken a "high-end, low-price" strategy in marketing its smartphone devices in India, seeking to build a strong user base in the South Asian country. Devoted to online marketing in India, Xiaomi has managed to unseat Samsung as the top-selling smartphone brand in India in the fourth quarter of 2017 in less than three years following its foray into the market. Earlier, 70% of the firm's revenues from the India market came from online sales, but now the company is gradually enhancing its sales through brick-and-mortar stores, according to Manu Kumar Jain, president of Xiaomi's India operations. Jain said that since the first Mi Home was set up in May 2017, the company has established 17 such stores to sell phones directly to customers and plans to expand the number to 100 by mid-2019.
At the moment, Xiaomi has licensed a total of 750 service centers in 350 cities around India, with over 100 of them serving as Xiaomi's exclusive partners. Through the licensed centers, Xiaomi has managed to achieve a high rate of 95% for repair and maintenance services done within one day, including 86% for services completed within four hours. Xiaomi hopes to boost the ratio of sales through physical stores to realize its "new retail" concept through the gradual expansion of such stores. The company also plans to promote sales of 6-8 smartphone models ranging in unit prices from INR 5,000 to INR33,000, extending its product lines to cover midrange and higher-end models.
Among other China players, Coolpad has announced plans to invest in the development of AI (artificial intelligence) applications in India. The company's annual global smartphone shipments are around 34 million units totaling US$3 billion in value, and its sales in the India market are also mainly conducted through online channels. The Moto smartphone brand, now controlled by China's Lenovo, has announced plans to set up 50 Moto Hubs in Dehli, where monthly smartphone sales account for 8-9% of total sales in the entire India market. Moto will also move to make sales deployments in the southernmost state of Tamil Nadu and other states, underscoring its ambition to tap the India market.
Spreadtrum Communications, China's leading maker of 4G chips, has cooperated with India's Reliance Group, supplying twin-lens chipsets to support Reliance Jio smartphone models for sales in the India market. In addition, the firm's SC 9832 chipsets are also applied to India's Micromax Bharat 2 smartphone model and Samsung's Galaxy J2 and J3 models, which have enjoyed good sales in India. Spreadtrum has positioned itself as not just a smartphone chip supplier, and it will follow the footsteps of MediaTek to set up a research and development center in Noida, a suburban city of Dehli, to provide technical support and develop total solutions for IoT (Internet of Things) and other advanced applications.
In contrast, Samsung, whose flagship Galaxy S series has not been given a major role to play in its compeition against China vendors, has seen its overall market share in India fall to 23%. But Samsung maintains as many as 150,000 sales footholds for smartphones and other consumer devices in India, offering repair and maintenance services to consumers around India, including those in rural areas. This has helped the firm's share of the off-line smartphone market hit a high of 43% in India.
The India smartphone market is now almost dominated by China brands. Samsung seems to be pursuing the goal of only maintaining its market share and shipment volume there. For the India handset market, Vietnam is a key player in the supply chain. Samsung accounts for 23% of Vietnam's export value, and Vietnam plays a key role in Samsung's smartphone supply chain catering to the ASEAN and South Asia markets. Samsung has not disclosed any major investment plans to expand its production in India.
(Note: This is the first installment of an article about the India's IT market and industry written by Colley Hwang, president of DIGITIMES.)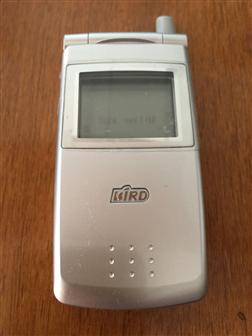 Bird-branded phones rolled out almost a decade ago in China are still available in India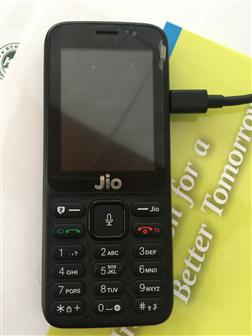 Reliance's low-cost handset for the India market
Photos: Colley Hwang, DIGITIMES, February 2018