NVIDIA has continued to innovate tools and platforms for developing autonomous driving applications and has developed a growing ecosystem of automakers, suppliers and startups worldwide.
When asked about the current status of the self-driving industry and challenges that still need to be addressed, NVIDIA Vice President and General Manager of Automotive, Ali Kani, noted that building an AV is a lot harder than most people originally anticipated.
Since AVs are still automobiles, which are complex systems that are safety critical and move very fast, designing computer architecture as well as related robotic and AI systems to ensure safety is one of the biggest challenges of our time.
Because of these reasons, the industry still needs more time and investment to deepen their AV development. NVIDIA's role is to provide the best and the most open platform to the industry for developers to build their AVs.
NVIDIA has some customers that wish to develop whole applications themselves. For this type of customer, NVIDIA offers high-performance chips that are programmable and based on a single architecture, so they are able to adopt the chips across all different segments of their AVs without wasting any extra time and development resources.
For customers that do not have the resources to build AVs by themselves, NVIDIA is also able to assist them in developing autonomous driving and intelligent cockpit applications.
To serve all different kinds of customers, NVIDIA has built its platform in a modular style, allowing customers to pick only the parts they need.
As an example, NVIDIA is working with Mercedes Benz to help the automaker develop active safety, parking and autonomous driving applications for its upcoming fleets.
In addition to the NVIDIA DRIVE in-vehicle platform, Ali Kani noted that the company also offers the DGX AI computing platform for clients to train their in-house developed perception networks on and the DRIVE Constellation and DRIVE Sim simulation platform, which enables developers to train and validate autonomous vehicles in the virtual world before real-world deployment.
Beyond that, many of the company's products, such as its GPUs for professional visualization applications, are also commonly used by auto companies' CAD engineers.
NVIDIA also helps build auto configurators to create virtual showrooms via its real-time ray tracing technology. The virtual showrooms allow buyers to customize the interior of the automobiles they wish to purchase.
During GTC 2021, NVIDIA Founder and CEO Jensen Huang also played a video showing the factory of future, which is an automobile manufacturing facility that NVIDIA helped BMW build, leveraging its Omniverse platform to enable automated production lines.
NVIDIA's Jarvis conversational AI technology is also being implemented by automakers for automated speech systems. NVIDIA's Maxine can also be applied into automobiles to create in-car conferencing services.
Expanding more on NVIDIA's simulation capabilities, Ali Kani said that simulation plays an important role in the training and validation of AVs. To create a development flow that is efficient, simulation is a must, since it is difficult for AVs to experience all possible scenarios in real life.
Ali Kani noted that simulation is needed to expand the coverage of the AV trainings, so it can experience different weather and traffic conditions. Through simulation, AVs are able to encounter road events that rarely happen, and even go through the same events' multiple times.
NVIDIA has built its entire simulation platform on Omniverse, as there is no other engine available that support the needs of AV simulation, since it requires physically accurate photorealistic images to train networks.
In the last few months, NVIDIA has announced the adoption of DRIVE Orin by top-tier automaker Volvo Cars together with several new energy vehicle brands including NIO, Li Auto, SAIC and Vietnam-based Vinfast.
In the level-4 and level-5 space, NVIDIA has GM's Cruise building AVs on its platform in addition to Amazon's Zoox and others on the robotaxi front. Trucking is also a key market for the NVIDIA DRIVE platform, and the company is working closely with leading players including TuSimple, Volvo Autonomous Solutions, Plus and Einride, to name a few.
Ali Kani also mentioned the importance for automakers to embrace a software-defined strategy. In the traditional auto industry, after a car is sold, the automaker can no longer generate more income from the vehicle. But with a software-defined strategy, additional subscriptions and services offer an opportunity for automakers to increase revenue.
With a software-defined strategy, a car's value no longer lies in the hardware, but now resides in the software. Automakers can continue to provide updates to their automobiles' AI systems to add more functions and services over the life of the cars, making them smarter and boosting their value.
Automakers' business perspective will also change from units sold to the fleets they manage, as all the automobiles sold can still bring new business opportunities to the makers, thanks to the software updates.
Ali Kani also provided extra detail about the DRIVE Atlan SoC, which was announced during GTC 2021.
From a performance perspective, DRIVE Atlan, which features over 1,000 TOPS (trillions of operations per second), making it a true data center on wheels.
To be truly software-defined, an AI system needs to constantly be updated over the lifetime of the car, making the system's networking and security crucial.
For that, DRIVE Atlan will feature next-generation CPU, GPU and BlueField DPU technology in order to provide data center performance, security and networking and automotive safety for AVs.
See a replay of Ali Kani's talk at COMPUTEX 2021 Forum, "Transforming the Transportation Industry with AI."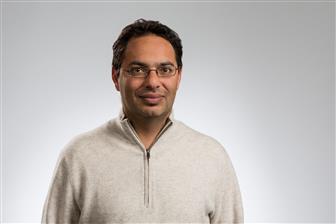 NVIDIA Vice President and General Manager of Automotive, Ali Kani