Manz AG is the wet chemistry process leader in Taiwan and China for production of displays panels, printed circle boards and advanced semiconductor packaging technology. The product offerings include solutions for cleaning, coating, plating, etching and stripping of various substrates, and the production automations. As Industrial 4.0 revolution and smart manufacturing swept through the global manufacturing industries, Manz leveraging intelligent technologies, production equipment and modular software design provide streamlined production automation systems to help Asia's customers for quickly expanding manufacturing capacity and production lines. Outstanding cost performance ratio and optimal productive time ensure excellent returns with consistent product quality.
In an exclusive interview, Robert Lin, General Manager of Manz Taiwan, talked about the new development of Manz product strategy before Touch Taiwan 2021 exhibition. Over two decades, Manz delivered automation equipment to Korea, Japan, China and Taiwan. Nowadays, Manz's intelligent production solutions provide the automated handling services for display panels ranging from 4-inch to G10.5 generation line for big 8K TV manufacturing tasks. Moreover, the tailored solutions to fit different requirements of various customers are most welcomed.
Manz highlights intelligent vertical handling systems for display industry
Manz is benefiting from the strong hardware and software design capability of its high-tech engineering teams. The new intelligent vertical handling systems showcase unique features with high stability, high availability, low glass breakage rate and high precision vertical handling capability. More than this, the teams create a close partnership between the company and the customers. The increasing trend towards automation in the production processes of Asian customers, Manz uses its long-standing technological expertise to collaborate with customers to provide tailored production solutions and tight integration in the processes. Following the company's successful development of intelligent production automation projects, the minimal breakage rates are achieved through material and chemical transport optimized to the process and substrate. Manz has gained customer trust from around the world.
Moreover, these new intelligent production solutions are leveraging PC-based controller from Beckhoff, another Germany-based automation firm to utilize open architecture and popular IT protocols as a design basis. The systems are providing high precision positioning features by an accurate replica of human hand positions, even at high throughput, minimal breakage rates are achieved through material and chemical transport optimized to the process. There are four major unique features highlights including real-time data collecting and analyzing, modular software design, high stability and great integration of Electro-Mechanical Integration systems. The solutions will help customer to achieve shortening time-to-market goal.
The automated projects in Taiwan are mainly focus on upgrades of 8.5th generation ("G8.5") facility. In China, due to the lack of flexibility and cost concerns, the new investment of G10.5 panel production lines are becoming more conservative. But the G8.6 investments are getting more attractive in China. Although, various automation solution providers with unique strength in the market already, the high value-added of Manz product offerings attract key customers because the requirements of high precision, speed and stability through long time establishment of corporate credits. Despite a high level of exposure to US-China tensions, European vendors like Manz still have good potential in China market while China panel makers beginning to focus more on high-end and advanced equipment.
Taiwan panel makers show innovative Micro and Mini LED display
Lin highlights smart manufacturing is a technology massively driven by automation. Thanks to the cross-strait customers welcomed AI-based technology to ramp up the speed of manufacturing optimization during the course of industrial upgrading. In the other hand, recently, the new display technology, especially Mini and Micro LED technologies, has emerged as a significantly driving force to push advanced production solutions. It is foreseeing the mass production of Mini LED display modules in this year. Taiwan panel makers are ready to launch mini LED backlighting applications targeting the smartphone, touchpad and TV market. And the Micro-LED display is also under developing to solve the technology challenges of Mass Transfer issues. The future growth of Taiwan panel makers is relying on this.
From perspectives of production solutions, the change of process equipment making mini LED panels is limited. During development of the processes, the use of the equipment in the process of Color Filter and TFT Array may be not much changed. The automation solutions perform good results including robust production, easy operation and high reliability, as well as production yield. For the coming Micro LED display technology, Manz is highly participating to design the solutions for proofing in the experimental production lines.
5G technology upbeat IC Substrate demands
Manz provides wet chemical processing solutions for the Printed Circuit Boards. In the higher end PCB sector, there is strong demands from IC Substrate leveraging the hot trend of 5G technology. Taiwan-based IC substrate providers are poised to enjoy a particularly strong orders in the first half of 2021, thanks to robust demand for high-end substrates PCB boards. This is benefiting to Manz production solutions in the semiconductor production solutions. As the advanced packaging and testing solutions getting more sophisticated, Manz is maintaining the continuous investments of production solutions for further increase the competitiveness and win the market.
An explosive opportunities of electric vehicle and lithium-ion battery
China is the world's largest electric vehicle market. Taiwan is also continuing to expand its scale of operations and grow into the lithium-ion battery cells and modules as well as for the assembly of battery packs for electric vehicle industry. These are huge business opportunities. Manz already entered into a strategic cooperation in the field of lithium-ion battery systems and portfolio enabling innovative, integrated turnkey production solutions. Meanwhile, Manz Taiwan is joining the MIH Alliance to jointly build an Electric Vehicle open platform for entering this potential business and introduce Manz automation solutions to Asia maker for gaining next boost in the business.
For further highlighting the new development of Manz production solutions and automation systems, during 2021 Touch Taiwan events, Manz will showcase at its booth a full range of products at Nangang Exhibition Hall 1 at fourth floor, booth no. M520. Manz sales and product teams warmly welcome you to visit the booth to experience more innovative solutions.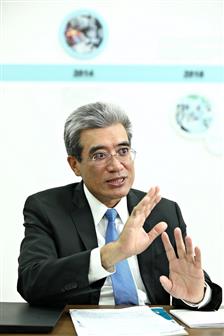 Robert Lin, General Manager of Manz Taiwan
DIGITIMES' editorial team was not involved in the creation or production of this content. Companies looking to contribute commercial news or press releases are welcome to contact us.