Canada is the fourth largest vehicle exporting country in the world, making 2.1 million cars a year. And the country is keen to take its car industry to a new level. Last year, Canada's Automotive Parts Manufacturers Association (APMA) launched Project Arrow - an initiative for developing electric vehicles (EV).
Digitimes recently talked to Warren Ali, SVP of innovation at APMA to learn more about Project Arrow and Canada's vision of future mobility.
Q: It has been one year since APMA launched Project Arrow at CES 2020. But not many people are familiar with this project. Could you please introduce the reason for launching the project, and the goals that you are looking to achieve through the project?
A: Let me walk you back with a bit of the background. The APMA is Canada's national association that represents automotive OEM producers of parts, equipment, tools, supplies and advanced technologies across Canada. This year is actually our 69th year.
For the past five or six years, we have been focusing on demonstrative projects, using a vehicle as a platform, to showcase Canadian autonomous and connected technologies and applications. Both in terms of infotainment and smart cars, as well as cyber security, quantum encryption, and other things like LiDAR, and the system that has the cars interacting with the things around it.
That was a very successful program, but for the factors that are driving the auto industry - connected, autonomous, electric, and shared - we didn't really have anything to showcase for electric cars, the new energy aspect. We have been using production line vehicles. While that is useful for showcasing autonomous and connected vehicles, you really cannot use it to showcase new EV technologies.
So we thought, what better ways are there than building the electrical vehicles from the ground up? We can showcase many elements that are not on the market yet. Last year we launched Project Arrow, as an extension of what we've been doing in the autonomous and connected space. It really showcased zero-emission technology capabilities of Canada.
At CES last year, we launched the initiative, basically divided into four phases. The first phase is design. We wanted it to embody some Canadian culture. So a competition's held across the country. We got dozens of submissions, and the winning design was from a team of four from a non-traditional industrial design school. And now we are on the second phase, which is RFP and engineering, core technology and components. We are building this concept car from ground up. Of course we need software, but we also need things like doors, windshield, tire, which are in the traditional space. So we recently kicked off the request for proposals (RFP) at CES 2021. It closes on March 1; so far we have over 200 companies registered to submit proposals. There are a whole host of products, applications and services we are sourcing. We have set up a portal site for Canadian companies which are interested in contributing by submitting their proposals and information, such as the area they are interested in participating.
Q: So only Canadians can participate? Are companies of other countries able to join this project?
A: We are here to showcase as much as we can of the Canadian EV/automotive ecosystems. And what I am saying by "Canadian" are companies which are operating and able to supply out of operations in Canada. We can source all kinds of things from all over the world, but the idea is that this vehicle is going to be designed and produced. We are trying to showcase the sources of stuff which is done in Canada as much as we can. There is no vehicles in the world that source completely from within one country. Every vehicle in North America sources things from United States, Mexico, and Canada, no matter where the assembly is. Just like in Europe, there is no one country that can produce cars that only source within its borders. Even in Asia, you are sourcing parts from all over the world. It is not only an electrical vehicle platform, but also a technology platform. So technology supplier across Canada don't need to be located next to the final assembly facility to be able to supply it. This is a unique opportunity for the complete automotive and auto-tech system to come together and teaming with our EV team in Canada.
Q: What about phase three and four? Will it be available for mass production next year? What role can Taiwan play in the collaboration with Canadian industries?
A: Phase three and four kind of happen concurrently. Phase three is designing the digital twin, and phase four is production. So we are designing the full functioning of the digital version of the vehicle itself. And then the production of the concept car as well.
Q: What is the function of the digital twin? What are the use case or effect you want it to perform?
A: This is one of the rare opportunities we want to showcase how a vehicle could be made and will be made in the future. In the past, whenever you want to participate in the manufacturing of a vehicle, you have to build and make physical components and do various iterations. From the digital twin side, you can not only create digital versions of the files, but also test it dynamically and digitally in many types of environments. We are partnering with several institutions in Canada on the virtual showcase. We are working at the ecosystem out of the Windsor area, which involves Windsor Economic Development Corporation, as well as University of Winsor, etc. We are also working with Ontario Tech University, and they have a wind tunnel to do all-weather testing in physical ways but also digitally with all the data accumulated.
So the digital twin will allow us not only to do a lot more dynamic testing in showcasing, but also enable a lot more participants to join in. You can only have so many suppliers in a produced vehicle, but in a digital environment, you can mix up, plug and play, for the optimal results without having to worry about the tooling cost and everything else you need to spend on producing all the elements. And you can combine other technologies within it, in more dynamic and quicker ways. What is great about the digital twin is that it can travel with you in your pocket. It is easier to bring around and interact around the world in real time whether we are home or abroad and give people the platform to engage with the vehicle to see how different things are working in concert with one another, and how they operate independent systems in different environments.
Q: It certainly is a very interesting new way to build cars in the future. Foxconn recently announced their MIH framework and a joint venture with Geely to build future electric cars. Do you see any possibility for their model to work for Project Arrow? Or is it more of a competitive kind of things?
A: I am somewhat familiar with what they are trying to do. A lot of companies now are looking at this opportunity to revolutionize the way vehicles are made. Using a more technological foundation, being more flexible and dynamic, incorporating new ideas into the systems that are going to be built, is allowing new players to enter this space.
One thing is for certain. There will be competitions, but there will also be cooperation across the market. Because with all of the investment and work being done, EV still makes up a small percentage in actual vehicles on the road. It's going to increase over time. But it is going to need the cooperation with OEMs, to work with the market to cause consumer shifts that changes mindsets, use cases, buying preferences, etc. As much as you want to compete with one another, there is going to have some cooperation. It is one of those areas where there may be partnerships that we have never seen before. For example, Honda with GM, working together on Cruise, here in North America; or BMW and Mercedes in Europe; and battery initiatives between France and Germany.
There is going to be work between countries and between companies. So there is a lot of areas we can participate. One thing is for sure: electronics and the hardware within the vehicle have been and will be playing an ever-increasingly important role in the value of EVs going forward. We know Taiwan has a lot of advanced works in those fields that they have been doing for a long time. The people and experts in Taiwan will have a lot to give. The market in Taiwan is big, but not massive, while the Canadian market is huge in geography with tiny population based in some urban centers and rural areas.
There will always be room for cooperation to look for new markets and new opportunities. Sometimes a couple of different applications working in concert will provide new ideas and new opportunities to work with different consumers and different customers, and even new investors.
Q: Which sectors of Taiwanese manufacturers are having the most opportunity of cooperation with Project Arrow, in your opinion?
A: One of the companies we are looking forward to working with is a company called E-One Moli out of Vancouver. They have been around for a very long time. Tesla's battery has its roots out of E-One Moli. And E-One Moli actually produces battery cells out of Taiwan. So there is cross linkages of some of the companies leading the future of EV space, such as Tesla, it is investing in talent that came out of that facility, which is now manufacturing out of Taiwan. There are connective tissues of cooperation that we can definitely build upon. And you have expertise in electronics. And we can also cooperate in R&D to improve batteries in terms of weights, volumes, and range. The batteries are great, but people in Canada will always be worried about warmth and cold. The batteries power everything in the vehicles now. So everything has a pull on the electronics, which includes software and everything else. It is going to affect the range and the performance. So there is all kinds of stuff in the software and battery management system that the Taiwanese ecosystem has been working on for a while now. There is definitely an opportunity to learn. But there will also be competition. No doubt about that. You have companies hiring away talent from other firms and bringing them on board. But while volumes of EV are still small, healthy cooperation in line of competition is going to be necessary to get to the point where the inflection of EVs becomes predominant across the world.
CES 2020 gave us a new way to see mobility in the future. You walk into the booth of Hyundai expecting to see a car, but actually they're showcasing a vehicle without wheels. The automotive world is moving towards technological space, and it is more about future mobility and the connection with a customer journey and how they want to move from one place to another. We are seeing more investments in flying taxis/cars as well as micro mobility vehicles such as electrical scooters, e-bikes or autonomous shuttles, different types of urban transit vehicles.
GM has announced at CES about building flying Cadillac, and Fiat-Chrysler is teaming up with flying EV startup Archer. The investments are more than just the itinerary of internal combustion vehicles themselves, but also in hydrogen cars, solid state batteries, etc. All of those things are not only converging but they are accelerating their developments as well.
We welcome interactions from Taiwanese companies on our platforms, and will be hosting a multitude of new events. I would encourage you to engage with our trade offices, which are excellent conduits, to look for opportunities of cooperation. Our platform is open; there is no harm in reaching out to us asking what can we do together. The new NAFTA agreement would go into effect on July 1st. It has opened up at minimum 6-8 billion dollars' worth of new automotive business opportunities here in Canada. So there is room for growth. I would be very happy to help look for opportunities for R&D and business development.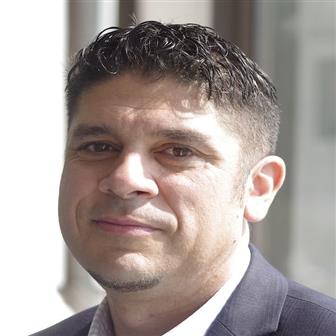 Warren Ali, SVP of innovation at APMA
Photo: APMA