NADI System, Memorence AI and Verdigris Technologies have developed AI-based solutions for manufacturing.
NADI has developed a 3D visualization management platform based on PSIM (physical security information management) architecture. The platform integrates data collected from manufacturing systems and IoT devices as 3D visualized displays for users to undertake analysis and prediction, according to company general manager Steven Chang.
The 3D displays use in-house-developed algorithms and locational parameters for each production line, Chang said, adding that the platform is intended to help manufacturers attain real-time, accurate and remote management.
Memorence has developed Memorence Suite, a GUI (graphical user interface)-based visual deep learning system capable of data management, AI model learning and inference, and results analyses, company founder and CEO Hsiao Pai-heng noted.
To adopt AI-based solutions to upgrade production, the first step is to define the problems to be solved and choose appropriate image-capturing devices, and then keep collecting images and data and establish corresponding databases. The final step is to build AI models and let the models keep learning for optimization, Hsiao indicated. Memorence has helped clients hike defect detection accuracy to over 99.9%, Hsiao said.
Verdigris, a company established in Silicon Valley by Taiwanese entrepreneurs, has developed AI-based sensors and algorithms to help factories diagnose power use for equipment and manage details of power consumption to maximize efficiency in power use, said company senior sales manager Jacky Wu.
Verdigris has helped US-based Katerra install six smart monitoring systems consisting of 216 smart power meters at six switchboards at its factory to monitor 72 different electrical circuits, Wu noted. Verdigris also provides smart early warning and power use prediction during hours of peak power demand.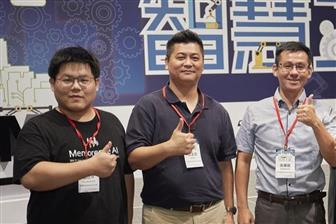 Memorence founder Hsiao Pai-heng (left to right), NADI general manager Steven Chang, and Verdigris senior sales manager Jacky Wu
Photo: Digitimes, October 2020