UK-based Rainmaking Innovation recently inaugurated its Center of Excellence and Expertise in Southern Taiwan Science Park (STSP), becoming the third accelerator there.
The center is established in line with AI Robot Base, an AI-based robotics promotion and acceleration project undertaken by STSP administration.
The center focuses on fields of AI, RPA (robotic process automation), AR/VR/XR/MR, blockchain, robotics, big data, 5G communication, cloud computing, financial technology, cybersecurity and smart city, said Ken Chuang, CEO for Rainmaking Innovation Taiwan.
In Taiwan, Rainmaking aims to help local enterprises in digital transformation and link startups with international ecosystems of entrepreneurships and venture capital firms, Chuang noted, adding Rainmaking has incubated 40 startup teams mainly engaged in Industry 4.0, smart city, financial technology and smart medical care since it entered the Taiwan market in 2018.
Rainmaking aims to help startups go internationally and create Taiwan-based unicorns through cooperation with large enterprises in Taiwan and its operational bases in 26 cities around the world, Chuang said.
Founded in UK in 2007, Rainmaking has set up 31 accelerators around the world and promoted innovation in over 10 vertical fields with total market value of about EUR1.5 billion (US$1.77 billion). Rainmaking has so far accelerated more than 900 startups and won total venture capital investment of EUR1.0 billion as well as formed strategic partnership with over 92 of the world's top 500 enterprises.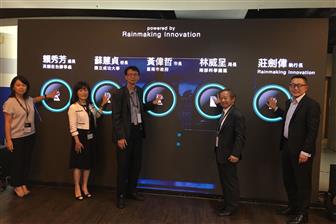 Rainmaking Innovation Taiwan unveils an accelerator in STSP
Photo: Rebecca Kuo, Digitimes, August 2020