The ultimate purpose of applying IoV (Internet of vehicle) to urban traffic is to maximize its efficiency, according to Thomas Stein, CEO for the Taiwan branch of Siemens Mobility.
Software/hardware transportation solutions are like building blocks that are deployed around cities and connected based on various scenarios of using roads, Stein said.
Because of limited physical properties, onboard sensors cannot detect abruptly appearing objects to prevent autonomous cars from hitting them, and therefore IoV devices, including those onboard and installed at fixed locations, are needed for multi-purpose detection to provide real-time warning, Stein indicated.
Siemens Mobility has provided many transportation solutions for use in many countries, including ones which combine car plates rcognition with IoV, and those which use SCOOT (split cycle offset optimization technique) algorithm to quickly coordinate traffic signals to give priority to light-rail transit coaches, Stein said, adding such solutions can be used in Taiwan to provide traffic data for government reference in its decision-making.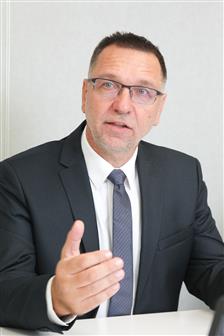 Thomas Stein, CEO of the Taiwan branch of Siemens Mobility
Photo: Shihmin Fu, Digitimes, July 2020