NTHU and NCU engage in cross-sector innovations, aspiring to build world-class healthcare ecosystem
Sandy Du, DIGITIMES, Taipei
As technology transforms the healthcare industry, more and more universities are offering degree programs in biomedical engineering to position themselves in the smart healthcare industry ecosystem. National Tsing Hua University (NTHU) and National Central University (NCU) with robust research strength in science, engineering, ICT and other technologies further leverage cross-sector integration and the Ministry of Science and Technology's (MOST) Global Research and Industry Alliance (GLORIA) program to actively tap industry resources and connect with market needs. Through reciprocal interactions, they look to lead Taiwan's developments in precision medicine, personalized medicine and eHealth to expand globally and build a world-class healthcare ecosystem.
NTHU's research achievements in precision and personalized medicine
NTHU enjoys a wealth of research resources in engineering, power mechanics, semiconductor as well as arts and humanities. Its proximity to the Hsinchu Science Park gives it a geographical advantage in connecting with the local high-tech cluster. According to Trong-young Lin, CEO, GLORIA Operation Center, NTHU, under MOST's GLORIA initiative to help integrate cross-sector resources, NTHU focuses on researches in smart manufacturing, biomedical technology, semiconductor, IoT and cultural creations. By enabling industry experts to discover the university's research strength and high-caliber R&D teams, NTHU successfully bridges the academia with the industry and has thereby engaged in more value-added innovations for the "Big Healthcare" industry.
Hygeia Touch, a startup founded by an NTHU research team, has jointly developed the world's first COVID-19 rapid test kit for clinical use with a group of researchers led by Professor Chao-Min Cheng, Institute of Biomedical Engineering, NTHU and Tri-Service General Hospital. The test is conducted by placing a drop of a patient's serum onto a test strip to measure the cytokine interleukin-6 (IL-6) concentration. It can determine within two minutes if the patient's condition is about to become severe so that medical professionals can take early action to treat the patient. The test kit was just announced in June 2020 and immediately grabbed the healthcare industry's attention.
According to NTHU, the test kit is undergoing clinical trials through collaboration with medical institutions including hospitals in Italy. To accelerate its use by frontline healthcare workers, it has also been submitted for an emergency use authorization (EUA) by the US Food and Drug Administration (FDA) and will go to market upon FDA approval.
Another NTHU-incubated startup, Cell Envision, has developed a circulating tumor cell (CTC) monitoring system. It generally takes six to twelve months of follow-up routine tests after surgery to detect metastasis in a cancer patient. Cell Envision's system can perform monthly checks to more precisely assess the risks of cancer recurrence and metastasis. Cell Envision attended the Innovation Challenge at the Redefining Early Stage Investments (RESI) held in Philadelphia in 2019 and was listed as one of the top finalists for its research achievement.
Innovations that will also be on exhibit at Bio Asia-Taiwan 2020 include NexVita Technology's high-precision VSA artery spectral analysis technology, a brain damage study and drug screening platform co-developed with Hualien Tzu Chi Hospital, a portable rapid sensing device for cardiovascular diseases introduced by Professor Yu-Lin Wang, Institute of NaoEngineering and MicroSystems, NTHU alongside a dozen more physical products and cutting-edge research results.
Engaging in healthcare research, NCU aims to enable preventive medicine
On the foundation of its strong science and engineering programs, NCU began to foray into research in healthcare, medical materials and other biotechnologies in recent years and is seeing its efforts generating results. Under MOST's support, NCU and Dutch firm DSM announced the plan to establish a joint R&D center in March 2020. By 2021, about 40 DSM researchers will be working at the center based in NCU. The partnership will help infuse an international firm's energy into NCU's research in biomedical materials to accelerate NCU's development toward high-quality preventive medicine on a global scale.
The signing ceremony for the NCU-DSM joint R&D center collaboration will be held at Bio Asia-Taiwan 2020. The partnership marks a major milestone in NCU's industry-academia collaboration endeavors.
According to Kwang-Hwa Lii, executive vice president, NCU, who is also in charge of NCU GLORIA, the collaboration with DSM, a green chemical producer based in the Netherlands, is of symbolic importance to the university's critical material development. The two parties will combine forces in chemistry and material R&D while tapping the research strength of NCU's biomedical sciences faculty to undertake additional industry-academia collaboration projects targeting preventive medicine including multi-functional drugs and materials for medical purpose coating.
NCU will present five exhibits demonstrating its research achievements at Bio Asia-Taiwan 2020, including professor Chen-Han Huang's portable allergen testing device iEAT, professor Shu-Chen Liu's application of first-generation spontaneously immortalized oral cancer cell line in translational medicine, professor Rong-Seng Chang's optical tremor analysis device for detection of Parkinson's Disease, professor Yi-Chiung Hsu's advanced bionic dynamic culture technology integrated with next-generation AI analysis platform, and professor Ssu-Ching Chen's high-efficiency performance dechlorination gel.
Take the portable allergen testing device iEAT for example. Food allergies are on the rise and doctors often rely on blood tests to diagnose allergies and find allergens. Built with nanotechnology and special material, iEAT is about the size of a key chain. Not only is it convenient and portable, but it also detects allergens within two minutes at 1ppm sensitivity, comparable to internationally recognized enzyme-linked immunosorbent assay (ELISA) conducted in laboratories. All the test results can be uploaded to the cloud via IoT technologies for AI-based computation and analysis. It serves as an ideal instrument for preventive and personalized medicine.
Taiwan not only has first-rate medical professionals and provides world-leading healthcare quality but also fosters a manufacturing ecosystem that is internationally acclaimed. Under MOST's GLORIA initiative, NTHU and NCU get to integrate resources and demonstrate Taiwan's innovation energy to the world from a higher perspective and fresh point of view. Driven by "Big Healthcare" industry developments, Taiwan's industry and academia will engage in closer collaborations and more partnerships with global biotechnology communities.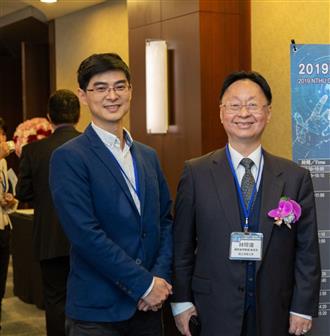 Cell Envision was listed among the finalists of the Innovation Challenge at the Redefining Early Stage Investments 2019.
Photo: NTHU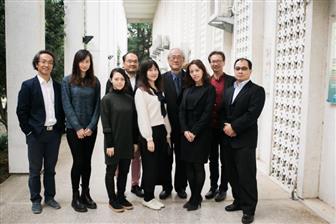 The NCU GLORIA team
Photo: NCU