There are many social networking platforms, but they have been unable to fill the very gap left wide open by the ongoing coronavirus pandemic that has been barring people from face-to-face physical interactions.
Virtual reality (VR) may be the best option, enabling interactions almost as real and conveying emotions much better than just words, stickers and voices, according to XRSpace president Sting Tao, who recently talked to Digitimes in an interview.
Q: How do you view development of social platforms amid the coronavirus pandemic?
A: As the pandemic has separated people and restricted social activities, lack of face-to-face social interactions has made life lonely and uncomfortable despite communication via the phone and messaging apps.
Interactions come in various forms: verbal expressions, emojis, and face-to-face physical meetings. More real interactions can lead to more emotional satisfaction.
VR technology features immersive experience and along with 5G connectivity, gesture-based operation and technological development of virtual personification (avatar) can bring brand-new experience for social application.
Q: In terms of social platforms, what has changed and what remains unchanged?
A: Since social platforms are for interactions among people, the ability to convey expressions, emotions and feelings is the core value that cannot be changed. There are different ways of expression enabled by different technologies, but the key is faithful transmision of the messages and feelings.
XRSpace thinks that VR bring better experience in emotional exchange and thus will become the technological mainstream in social application. In a bid to keep upgrading its XRSpace Manova, XRSpace has been constantly asking itself: Can our new services meet users' demand? Can the new functions make users feel easy to use and want to use them every day?
Q: While other VR platforms focus their applications on entertainment, education, training or industrial purposes, why does XRSpace focus on social networking?
A: VR gaming is exciting and VR video is interesting, but such applications lack emotional connection, making VR merely an entertainment tool and commercially a production tool.
For emotional connection, VR cannot be used to only entertain individual users and instead has to enable individual users to connect with others.
XRSpace Manova enables users to interact with their favorite characters from movies or animations. There can be other virtual scenarios where company managers, fitness coaches, teachers or tour guides can interact with the users.
XRSpace has Manova-specific revenues coming from three sources: Sales of Manova hardware; sales of virtual items; sharing of revenues from partners marketing on the Manova platform. XRSpace will develop an online transaction mechanism on Manova for partners to sell online videos, educational courses, and tickets for concerts and sports events, etc. XRSpace will provide tools and management functions to help partners develop software, content and services on Manova.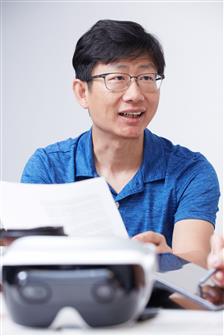 XRSpace president Sting Tao
Photo: Michael Lee, Digitimes, July 2020