A smart manufacturing trial base in central Taiwan will extend from experimental production for components to technological verification of smart manufacturing solutions, according to Intelligent Machinery Technology Center (IMTC) under government-sponsored Industrial Technology Research Institute (ITRI).
The base, set up by IMTC at Taichung Precision Machinery Innovation Technology Park, started operation in September 2018. The base, equipped with locally-developed machine tools, automation equipment and software, is intended to introduce concept of smart manufacturing to Taiwan-based small- to medium-size makers.
As more and more makers hope to introduce smart manufacturing to hike production efficiency and competitiveness, the base has to play an additional role of verifying smart manufacturing solutions to be adopted, helping makers set up smart factories covering planning, equipment development and system integration, IMTC said. For example, a shoe maker planning to set up a factory in Vietnam can install trial production lines, and if proved to be feasible, they can be exported to the Vietnam factory on a turnkey basis.
Verification for technological feasibility can help makers save R&D cost and time, IMTC said.
The base has so far helped over 100 makers undertake experimental smart production of over 800 models of components used in automobiles, bicycles, machine tools, aerospace devices and various molds.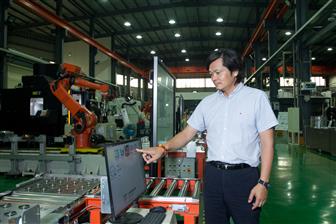 ITRI's smart manufacturing trial base
Photo: Shihmin Fu, Digitimes, July 2020