To demonstrate its smart city solutions to other cities worldwide, the local government of Taoyuan, Taiwan signed contracts with Local Governments for Sustainability (ICLEI), a network of more than 1,750 local and regional governments committed to sustainable urban development, to become the chair for ICLEI's first international EcoLogistics community in 2019. Taoyuan also established the EcoLogistics Community Chair Office in March 2020.
The deputy secretary-general of the Taoyuan municipal government and CEO of the office, Jiunn-Ming Chiou, pointed out that the city has a comprehensive logistics industry surrounding the Taiwan Taoyuan International Airport, the largest international airport in Taiwan.
There are around 2,000 logistics processing sites and enterprises with mixed levels of digital transformation all around Taoyuan and the city government believes these companies' development will play a key part in Taoyuan's transformation into a smart city, Chiou said.
Since these logistics companies have never been properly managed by the city government, they have been creating external costs and economic losses to Taoyuan for many years. For example, these companies' poor truck fleet management has caused serious traffic interferences, pollutions and inefficiency to the city.
Although Taoyuan's Department of Economic Development already established an alliance for Taiwan's logistics industry with help from The Global Logistics & Commerce Council of Taiwan in 2016, so far only 300 companies have joined the alliance, Chiou noted.
Chious said increasing the number of members in the alliance will be a key goal of his office, which is also looking to enhance Taoyuan's logistics infrastructure, to create a list for the city's logistics enterprises and to categorize their characteristics, working towards a synchronized pace for the industry's digital transformation.
During the past three months after founding, the office has picked five different sites in Taoyuan to demonstrate different logistics scenarios.
Via these demonstration sites, the office is looking to achieve some progresses in establishing policies for Taiwan's logistics industry in two years and will export the solutions and management experience to worldwide cities through ICLEI, said Chiou.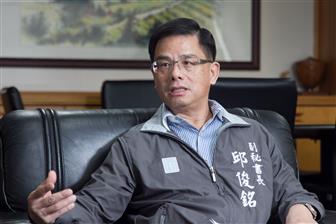 Jiunn-Ming Chiou, deputy secretary-general of the Taoyuan government
Photo: Shihmin Fu, Digitimes, June 2020